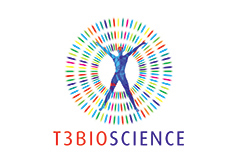 T3 Bioscience
T3Bioscience LLC concentrates on a two-pronged research focus. It differentiates its research between synthetic and bio products. Synthetic product research specializes in developing antivirulence drugs for fighting the gram-negative bacterial pathogens in humans and crops (namely, apple, pear & rice) by targeting type 3 secretion system of bacterial virulence.
Bio product research is specialized on the discovery of new antibiotics by means of an internal proprietary methodology (PROMISA – Proprietary Methodology for Isolation of Antibiotic Bacteria) developed by Dr. Ching-Hong Yang over the last 15 years that allows systematic and efficient discovery of new bacteria fighting antibiotic resistance in humans.
T3Bioscience executes its research fulfilling five objectives:


identify alternative products to replace existing antibiotics;


identify supplements for existing antibiotics (synthetic or natural); ie, cognate inhibitors as potential combination agents to increase or restore current commercially available antibiotics against bacterial pathogens;


develop new anti-microbials.


specialized agriculture focus with synthetic products to replace antibiotics as pesticides, thus contributing to fight human antibiotic resistance.


bring lead compounds from the laboratory as commercial products to the shelves of a drug store, helping to save human lives.