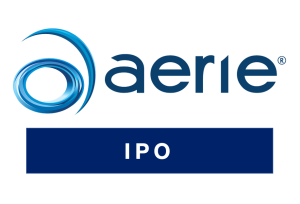 Aerie Pharmaceuticals, Inc.
Developing new therapies for sight-threatening diseases of the eye.
We are a publicly traded (NASDAQ: AERI), clinical-stage pharmaceutical company focused on the discovery, development and commercialization of first-in-class therapies for the treatment of patients with glaucoma and other diseases of the eye.
Glaucoma is one of the largest segments in the global ophthalmic market. In 2016, branded and generic glaucoma product sales exceeded $5.0 billion in the United States, Europe and Japan in aggregate, according to IMS. Glaucoma is a progressive disease in which elevated levels of intraocular pressure, or IOP, are associated with damage to the optic nerve, resulting in irreversible vision loss and potentially blindness. Additionally, glaucoma is a highly individualized disease and there is no direct correlation of the level of IOP at diagnosis with damage to the optic nerve.
According to the National Eye Institute, it is estimated that over 2.7 million people in the United States suffer from glaucoma, a number that is expected to reach 4.3 million by 2030. Furthermore, The Eye Diseases Prevalence Research Group has estimated that only half of the nation's glaucoma sufferers know that they have the disease. Prescription volume for glaucoma products in the United States alone was 36 million in 2016 and is expected to grow, driven in large part by the aging population.
If approved, we believe our innovative product candidates could be effective across the majority of glaucoma patients. They are once-daily, well-tolerated eye drops that are designed to provide eye-care professionals with the first novel intraocular pressure-lowering mechanisms of action, or MOAs, to treat patients with glaucoma or ocular hypertension in over 20 years.
Our lead product candidate, Rhopressa™
1
2
3
 (netarsudil ophthalmic solution) 0.02%, successfully completed its second Phase 3 registration trial in September 2015. This trial, named Rocket 2, achieved its primary endpoint of non-inferiority of Rhopressa™ ophthalmic solution to comparator timolol across a range of baseline IOPs from above 20 millimeters of mercury (mmHg) to below 25 mmHg. In addition to successfully achieving non-inferiority to timolol at this endpoint range, the topline 12-month safety data from Rocket 2 confirmed a positive safety profile for the drug and demonstrated a consistent IOP lowering effect throughout the 12-month period at the specified timepoint.
Rhopressa™ ophthalmic solution also achieved non-inferiority to timolol in its first Phase 3 trial, named Rocket 1, at the pre-specified secondary endpoint range of baseline IOPs from above 20 mmHg to below 24 mmHg, while not achieving non-inferiority to timolol at the primary endpoint range of below 27 mmHg due to performance at the top millimeter of the range. We resubmitted the NDA for Rhopressa™ ophthalmic solution on February 28, 2017 using the Rocket 2 results as pivotal and Rocket 1 as supportive. In May 2017, we received notification from the FDA that the FDA has completed its initial 60-day review of the Rhopressa™ NDA and determined that the application is sufficiently complete to permit a substantive review. The Prescription Drug User Fee Act (PDUFA) goal date for the completion of the FDA's review of the Rhopressa™ NDA is set for February 28, 2018.
With FDA approval in sight, why Aerie's keen on global strategy too