Video and Slides: Manny Stockman Seminar on Start-Up Founding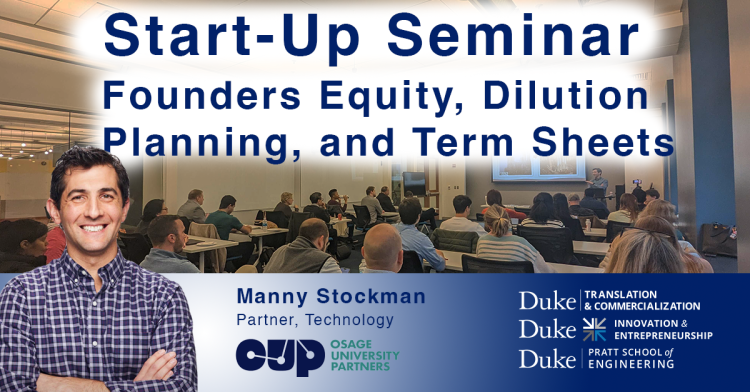 On January 31st, 2023, Manny Stockman of the venture capital investment firm Osage University Partners, delivered a talk titled: Start-Up Seminar: Founders Equity, Dilution Planning, and Term Sheets. In this post you will find the full recording of the event, a writeup summary, and a link to access the slides.
The Edge Workshop Room in the Bostock Library was crammed with undergrads, graduate students, post-docs, faculty, and staff all eager to hear from Manny – a Duke alumnus himself – about the basics of founding a company and parsing through investment proposals.
In the first half of the talk, Manny covered equity and dilution. After going over some basic terms and definitions, Manny showed how equity in a start-up changes over time. For example, most companies start with a leading founder/CEO and other founders owning 60% of a company, but after multiple rounds of funding and a successful exit typically that group of founders end with about 24% ownership. As an individual founder and maybe one other cofounder, this implies that the roughly 30% they own at the beginning may be diluted down to 12% or more.
Because equity is so important for a start-up – for example, a portion is often given out as "options" to early employees when higher salaries are cost-prohibitive – making sure to carefully think through how equity is allocated from the very inception of a start-up is incredibly important. Manny shared some consequences of poor equity allocation, including parasitic founders and painful recapitalization experiences.
Watching percentages in your own company diminish over multiple rounds of funding may feel frustrating to founders, but careful allocation from the beginning and proper dilution over multiple rounds can assuage those anxieties. After all, a well-structured start-up is more likely to attract better investors and grow more effectively. In the end, the takeaway is clear: better to have a smaller piece of a bigger pie than be eating a smaller pie by yourself.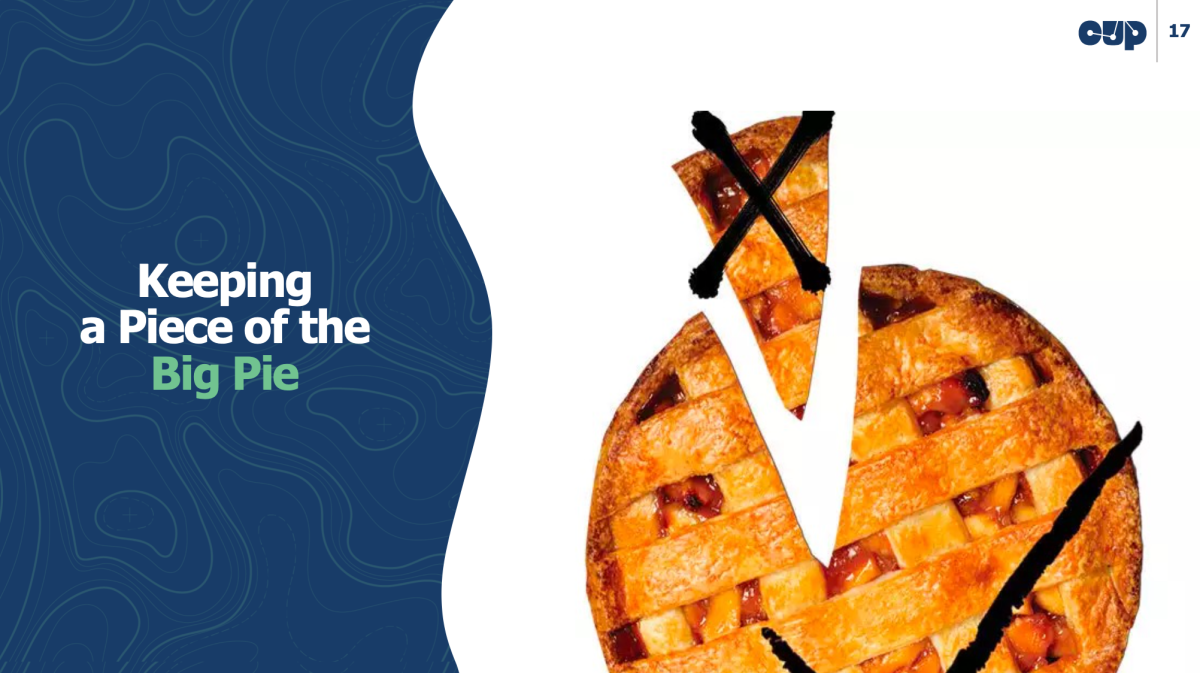 In the second half of the talk, Manny walked the crowd through a term sheet. A term sheet is basically a proposal document from an investment group that outlines what an investment and fundraising round would look like.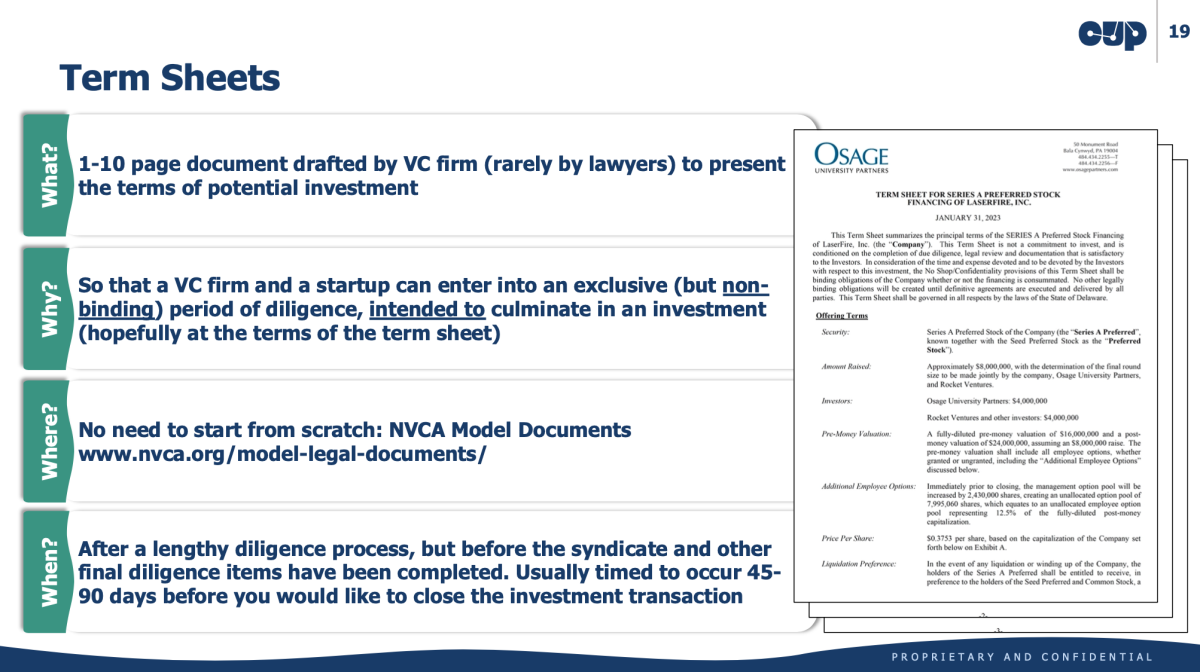 Some things to consider in a term sheet are:
What portion of the full round would your lead investor be contributing?
Has the firm coordinated with insiders to propose a solid valuation?
What is the structure of the dilution? Do your own math!
What is the preference stack, i.e. who gets their money back in what order?
Strange terms are hard to get rid of once agreed upon – read everything extremely carefully!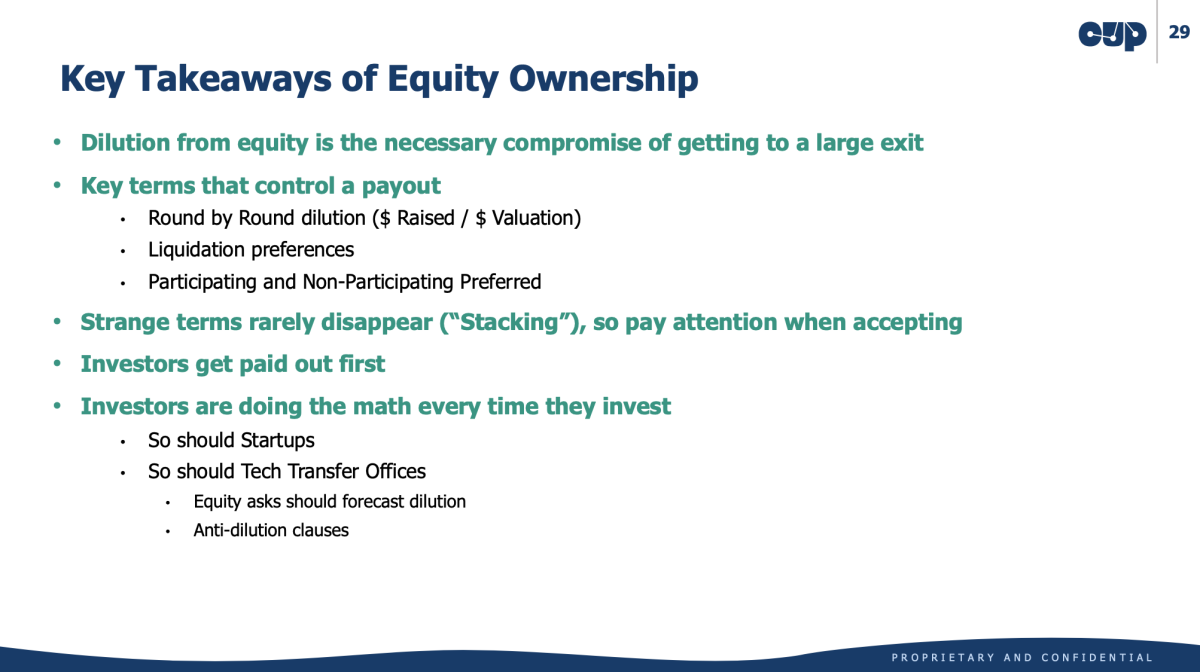 So before you launch your exciting new start-up, watch Manny's talk, review the slides, and carefully consider your equity allocations and term sheets. And, of course, reach out to Duke's Office for Translation & Commercialization – we can help!
This seminar was sponsored by:
Duke's Office for Translation & Commercialization
Duke Innovation & Entrepreneurship