Venture Day 2022 Highlights Early-stage Life-science Companies in the Triangle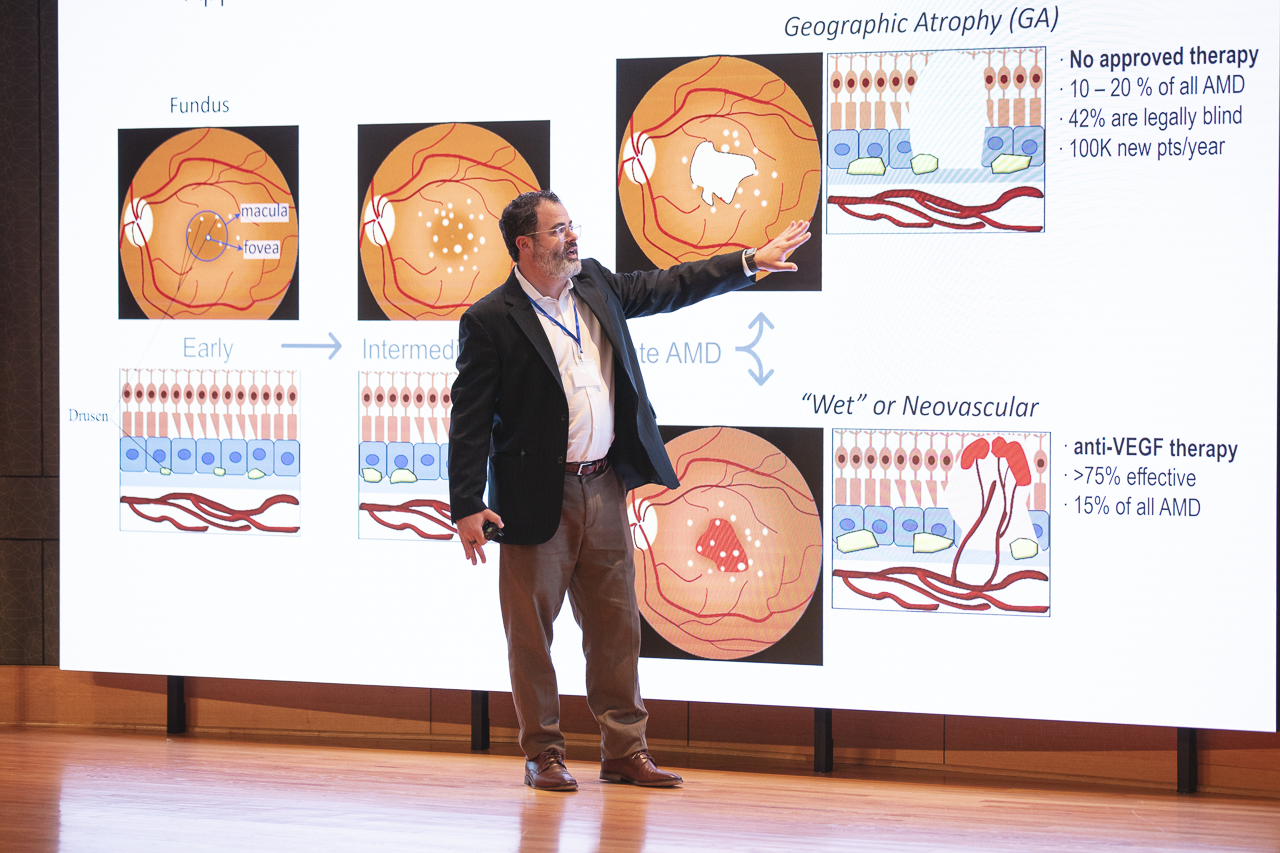 From left to right: Vivian Doelling, Vice President for Investments and Emerging Company Development at NC Biotechnology Center, Jeff Welch, Director of Duke New Ventures, Mireya McKee, Director of UNC's KickStart Venture Services, and Michael Kline, Director of Outreach and Technology Development at UNC Office of Technology and Commercialization (Photo: Sarah Daniels).
UNC-Chapel Hill, Duke University, and the North Carolina Biotechnology Center highlight the importance of strengthening a regional ecosystem of scientific and entrepreneurial expertise by helping life science startups gain exposure, build connections, and get feedback from potential investors.
By Shellie Edge and Aliza Inbari
Durham, NC, April 7, 2022—The innovation and entrepreneurial ecosystem across the Research Triangle region is important to our regional economy. Continued growth of the ecosystem relies on collaborations among top research universities often resulting in new business formation, or startups, to help push innovation forward in order to create impact across North Carolina and beyond.
For the first time post COVID, the Duke Office for Translation and Commercialization (OTC), the University of North Carolina at Chapel Hill's KickStart Venture Services, and the North Carolina Biotechnology Center (NC Biotech), jointly hosted Venture Day on April 6, 2022. The event provided an opportunity for 15 startup companies out of UNC-Chapel Hill, Duke, and NC Biotech to pitch their innovations to venture capitalists and gain valuable feedback and investments needed for future growth. The event was sponsored by the U.S. Economic Development Administration's (EDA) SPRINT Challenge award.
"Our region has an abundance of innovative researchers and is one of the premier life science IP generators in the country," says Mireya McKee, PhD, director of UNC's KickStart. "We are thrilled to partner with Duke New Ventures and the NC Biotech Center to showcase some of our promising therapeutic startups in front of biotech investors and strategic partners from around the country. Our Venture Day is part of an Economic Development Administration (EDA) grant to create an entrepreneurial hub in the Research Triangle Area. We are confident that the event will facilitate industry partnerships and early-stage deals for our startups and further catapult the region as a leading life science and innovation hub."
Building on the success of the previous Duke/UNC Venture Day in 2020, the Carolina and Duke teams continue to partner to support technologies on their pathways to market. Between efforts from each of the startup ventures in attendance and their connected university departments, the Research Triangle region will continue to flourish as a leader in innovation and entrepreneurship.
"Venture Day is a tremendous opportunity to bring biotech investors from many funds and geographies into contact with start-up companies in the Triangle," says Jeff Welch, PhD, Director of Duke New Ventures program. "The collaboration of Duke, UNC, and the North Carolina Biotechnology Center to organize this event also provided start-up founders with multiple opportunities to access business advice from the separate networks of three fantastic institutions to help jump-start conversations with invited investors. This year's inaugural class of 15 companies and 35 investors serve as a foundation for future events."
"North Carolina is one of the country's leading life science ecosystems with world-class research, development, clinical and biomanufacturing expertise," says Vivian Doelling, PhD, vice president for investments and emerging company development at NC Biotech Center. "As partnerships are critical for the continuation of our region's rapid growth, I am pleased that two of our leading research institutions, Duke University and the University of North Carolina at Chapel Hill, are partnering with the NC Biotech Center to bring together this Venture Day investor event. Working together has created synergies between our three institutions that can only enhance our collective ability to better support early stage life science companies in North Carolina."
The 15 startups that participated in this year's Venture Day were:
APIE Therapeutics is a biopharma startup pioneering the development of a portfolio of anti-fibrotic therapeutics drugs to treat chronic diseases associated with vascular endothelium dysfunction. Founder: Esther Alegria, PhD.
Artiam Bio is a privately held biotechnology startup that is developing therapies from preclinical through clinical proof-of-concept stage. Artiam's most advanced program targets the cannabinoid type 1 receptor (CB1) to treat non-alcoholic steatohepatitis (NASH), Cannabis Use Disorder (CUD), and Prader Willi Syndrome (PWS). Founder: Rangan (Ronnie) Maitra, PhD.
Avior Bio is a clinical-stage, pharmaceutical company developing a treatment for pruritus and inflammatory skin disease in rare liver disease called primary biliary cholangitis. Founder: Niraj Vasisht, PhD.
CLAIRIgene is a startup from Duke committed to bringing gene-targeted epigenome therapies for unmet medical needs in central nervous system disorders with a focus on age-related neurodegenerative diseases. Founders: Ornit Chiba-Falek, PhD and Boris Kantor, PhD.
DuraBull Pharmaceuticals is focused on early-stage drug development for patients with hereditary aortopathy. Current medical therapies slow, but do not prevent, ascending aortic aneurysm development and the need for open-heart surgery for patients with Marfan Syndrome. Founders: Joseph Turek, MD, and Joseph Nellis, MD.
Dry AMD NewCo is a startup from Duke developing a therapeutic drug to treat the "dry" form of Age-related Macular Degeneration (dry AMD). Founders: Daniel Saban, PhD and Chen Yu, PhD.
Eldec Pharmaceuticals has developed a novel, first-in-class, broad-spectrum, lung-specific immunomodulator called ELD607. ELD607 beneficially normalizes lung neutrophil levels in five different murine lung disease models and represents a revolutionary approach to improving outcomes in patients with neutrophilic inflammation. Founder: Robert Tarran, PhD.
Enfuego Therapeutics is a biotech company developing novel ligand-directed RNA interference-(RNAi)-based therapeutics to target "non-druggable" oncogenes such as KRAS and MYC. Founder: Chad V. Pecot, MD
Epigenos Biosciences is focused on developing dCas9 Chemical Epigenetic Modifiers (CEM) -based therapies for multiple rare diseases and cancers driven by a single gene mis-regulation (i.e., a gene that is inappropriately turned on or off). Founders: Nathaniel Hathaway, PhD and Joe Ruiz, PhD.
GeneVentiv Therapeutics is a pre-clinical gene therapy company focused on blood diseases and disorders. Its lead program, GENV-HEM, is the first universal gene therapy treatment for Hemophilia A and B with or without inhibitors. Founders: Damon R. Race, MBA, CLP, CMT and Chengwen Li, MD, PhD.
Gusto Global is developing a novel bioinformatic and analytic platform that positions the company to accurately understand the role of the microbiome in human health and disease. The company is pioneering a low-cost, high-throughput and high-resolution analysis of microbiome signatures for early disease detection, monitoring and prognostics in liquid biopsy samples. Co-Founder: Mark Spizer.
Helixomer is a pharmaceutical development startup with a proprietary RNA origami-based platform technology at its core. Its first drug is a fast-acting RNA anticoagulant that directly inhibits thrombin and is rapidly turned off using its DNA reversal agent. The company's RNA platform can be used as an antibody replacement in a wide range of future applications. Founders: Thom LaBean, PhD and Abhichart Krissanaprasit, PhD.
Inhalon Biopharma is a clinical-stage immunotherapy company with an inhaled muco-trapping antibody platform to prevent and treat acute respiratory infections. The platform enables inhaled antibodies to trap pathogens in airway mucus, thereby preventing the spread of infection. Founder: Sam Lai, PhD.
Tavros Therapeutics is a precision oncology company focused on discovering and developing novel, first-in-class drugs that are clinically positioned from the start using a proprietary CRISPR screening platform. It uses its platform to discover biomarker-driven clinical positioning strategies for next generation cancer drug targets before a drug exists. Founders: Eoin McDonnell, PhD, Kris Wood, PhD, Greg Mossinghoff, MBA.
TheraSplice is a precision oncology platform, pipeline and product company focused on discovering and drugging novel RNA splicing events that drive cancer aggressiveness and resistance to therapy. The company has several targets under development in prostate, lung, breast, and liver cancer with the goal of initiating biomarker stratified clinical trials. Founders: Steve Patierno, PhD and Jennifer Freedman, PhD.
Interested in learning more about Venture Day companies or other companies in the KickStart, Duke OTC, and NC Biotech portfolios? Please contact the KickStart team at kickstart@unc.edu, Jeff Welch at Jeff.welch@duke.edu and Vivian Doelling at Vivian_doelling@ncbiotech.org