The Rapid Growth of Digital Innovations at Duke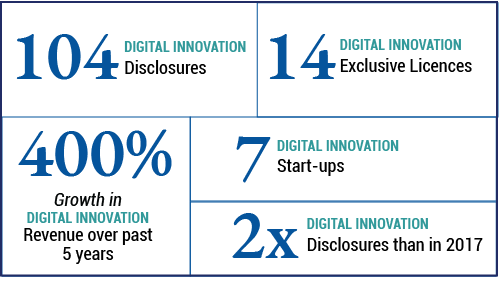 From the rise of the internet to a booming digital economy: FY19 Annual Report in Software
Since Time Berners-Lee invented the World Wide Web in 1990, the way we live, shop, work, communicate, and even order our coffee has undergone a fundamental change.  This change has required a huge investment in improving the way we connect to the internet.
A new study from the Commerce Department's Bureau of Economic Analysis (BEA) reported that the digital economy—hardware, software, e-commerce, digital media, telecommunications, support services—accounts for 6.9% or $1.4 trillion of the U.S. GDP in 2017.
As with increasing innovations, the makeup of the digital economy has shifted in the past 20 years, most notably with hardware falling and e-commerce and digital media on the rise.
This can be seen in the Digital Innovations (DI) portfolio for Duke's Office of Licensing & Ventures (OTC) ­–which only includes software, data, and content from across the university, medical center, and health system.  These innovations have inherent protectable IP and despite their rapidly evolving nature can have significant value and potential for commercialization.
This year, almost 30% of the 354 FY19 invention disclosures were DI. Additionally, 14 of 32 exclusive licenses and 7 of 16 start-ups were DI.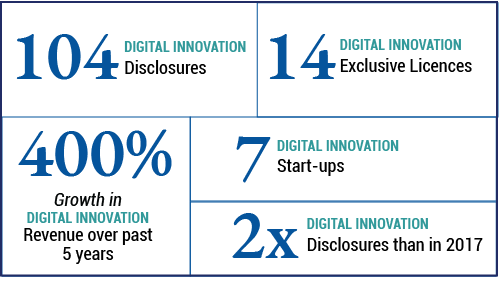 Reflecting the evolving nature of research and innovation at the university, health system, and across the country, DI disclosures have more than quadrupled with a corresponding growth in licensing and startups. Additionally, DI disclosures come from departments, schools, institutes, and centers spanning the breadth of Duke University and Duke Health including administrative and service groups such as Duke Libraries, Duke OIT, DHTS, and Duke PRMO.
The combination of Duke innovators being at the forefront of the use of AI, machine learning, the Internet of Things (IoT), and data analytics is improving health care.
"Education has led to a rapid increase in collaborations–both internal and external–and the development of new technologies," said Dinesh Divakaran, Associate Director of Software Licensing at OTC. "OTC works with our innovators in creative ways to protect and commercialize these new technologies while catalyzing startups and also identifying licensing partnerships with companies to develop products and services."
Protecting & Licensing DI
Digital Innovations can be protected under different types of intellectual property laws, with each affording a different type and level of legal protection. Computer programs (source code, object code, scripts), screen materials, and databases may be protected under copyright laws, or even maintained as proprietary information (universities generally do not have trade secrets).
Certain methods and algorithms underlying software could be patentable, and although trademarks don't necessarily protect the technology, they could protect the names or symbols that make the technology-based product or service unique within a market.
Intellectual property due diligence and selecting the optimal model for licensing software can be a critical determination that can drive business and provide the right protection for intellectual property rights. OTC's knowledge and expertise in these areas help to guide innovators down the right path.
"OTC was open to discussing different licensing options for the software developed at Duke and, in the end, both Quadridox and Duke walked away happy with the terms and a newly established partnership," said Joel Greenburg, President and CEO of Quadridox, a software spinout company specializing in the use of X-ray physics to develop real-world solutions in the security arena, such as airport screening.
Greenburg, a Pratt School of Engineering Associate Research Professor of Electrical and Computer Engineering, further stated, "We are particularly excited about leveraging the mentorship opportunities available to Duke spinout companies."
OTC's Duke New Ventures (DNV) is a 2-year-old initiative that helps new start-ups think through opportunities, craft a business plan, and connect with the management, mentors, and investors to ensure the success of the new venture.
DNV's Mentors-in-Residence program involves using seasoned entrepreneurs to bring their insights, experiences, and numerous connections to nascent companies. One example is assistance given to Duke software startup, Gavilán Biodesign, that has pioneered an algorithm to anticipate and overcome drug resistance.
"Duke's tech transfer team helped us every step of the way as we moved from academic researchers to entrepreneurs. Our first meetings with OTC got us early investor conversations and even one of our first partnerships," said Jonathan Jou, co-founder of Gavilán.
Digital Health and Health IT at Duke
DI has been driving a revolution in the health care industry. At Duke, most of the DI disclosures are in the field of digital health and Healthcare IT. From SaMD and digital therapeutics to clinical decision support tools and screening tools that improve clinical decisions, DI is empowering both clinicians and patients to make better decisions in health care.
However, these improvements are not without their challenges, especially when thinking beyond the campus and our hospitals.
"The challenge with health care innovations is achieving dissemination and scale. OTC helped us translate a good idea to improve patient care at Duke into a sustainable idea that could improve patient care across the world," said Arif Kamal, CEO of Prepped Health, a Duke start-up that created a mobile health platform to help patients prepare for their journey with serious illness.
There is tremendous growth in digital health and healthcare IT innovations. Duke is uniquely positioned to help reshape the technology landscape in health care, especially with the move towards value-based healthcare delivery and the need to measure healthcare outcomes.
The University's transdisciplinary teams of innovators work closely with OTC during the technology development process. Together they identify and select optimal approaches to protect intellectual property and map commercialization pathways, while improving adoption of digital solutions that support our clinicians in providing the best care to our patients.
Last year, Duke Health developed and deployed Sepsis Watch, an augmented intelligence solution for early detection of sepsis. "We needed help to scale our technology beyond Duke. OTC was instrumental in securing our licensing deal with Cohere Med, thus helping this Duke-developed technology to reach global markets and have a broader impact," said Suresh Balu, Director of the Duke Institute for Health Innovation (DIHI). "With strong support from OTC, we continue to explore a partnership model with Cohere Med."
There are additional factors to consider when developing digital health ideas at Duke, such as conflict of interest questions–data sensitivity of patient health records or personal information.
"There are many privacy and information security questions you'll need to think through, especially with regard to data obtained from Duke. However, OTC has developed relationships across campus and outside to help you navigate these processes," said Divakaran.
Digital Innovation has come a long way since the 1990s and we're on an accelerated path of innovation growth.  With greater connectivity, we can access a greater amount of data, providing us with better decisions.
"From our relationships formed on campus to partnerships formed off, Duke is taking cutting edge technologies to the forefront of the innovation ecosystem," said Robin Rasor, Executive Director of OTC. "We are leading the way to transfer Duke's knowledge and expertise with the clear goal of reaching the public market for the benefit society."