Solve Therapeutics, Inc. Acquires Cereius, Inc., a Duke University Spin-Out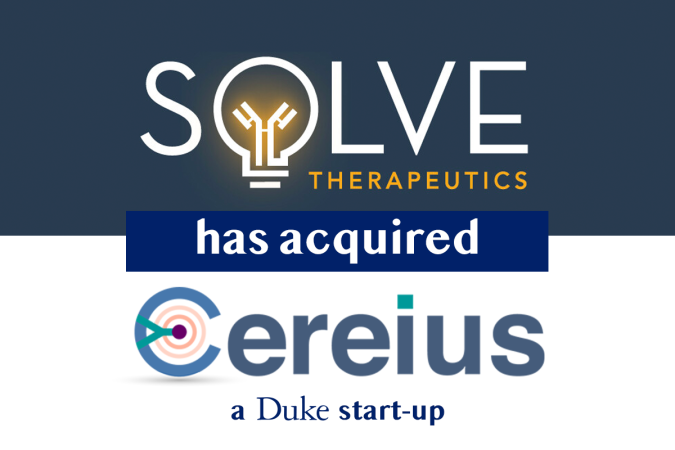 NOTE: This press release was first published on PR Newswire.
Acquisition of the Cereius radiolabeling technology platform and next-generation radiotherapeutics bolsters the SolveTx development of cancer therapeutics
SAN DIEGO, CA and DURHAM, NC (June 22, 2023) – Solve Therapeutics, Inc. (SolveTx), a biopharmaceutical company developing novel antibody-based therapeutics, announces the acquisition of Cereius, Inc. (Cereius), a private company developing innovative next-generation, targeted radiodiagnostics and radiotherapeutics for cancer patients. Cereius was co-founded by Professor Michael Zalutsky and Dr. Kimberly Lynn Blackwell around technology initially developed at Duke University and further advanced by the Cereius research team.
"Through the pioneering work of Duke University researchers and our early investment in the company, Cereius has built a conjugation chemistry platform that can be deployed with site-specific labeling," said Eric Linsley, a General Partner at Mission BioCapital and board member of Cereius. "But this is just one possible application of the developed modular chemistry platform; swapping out the various components of the assembly allows for targeting of multiple types of cancers and delivering radionuclide diagnostics or therapeutics. This acquisition complements Duke University and Cereius innovations with extensive SolveTx drug development expertise."
"We are excited to include the Cereius platform in our growing toolbox for developing cutting-edge oncology therapeutics," said Dave Johnson, CEO of SolveTx. "Cereius technology has strong potential for expanding the utility of existing targeting antibodies and nanobodies. These next-generation radiolabeling chemistries and technology offer the potential to develop whole-body, contemporaneous imaging for patient selection in conjunction with the development of SolveTx targeted treatments and to provide value enhancement for partnering oncology companies seeking life-cycle product management opportunities."
Under the terms of the agreement, Cereius shareholders will receive an undisclosed upfront payment and are eligible to receive additional development, regulatory, and commercial milestone payments. In addition, Cereius shareholders are eligible to receive tiered royalties on net sales from therapeutic and diagnostic products that SolveTx successfully commercializes.
SolveTx will continue to refine the chemistry platform while developing targeted radionuclide therapeutics and evaluating companion radiodiagnostics for use together with other types of targeted cancer therapeutics. The company is building out a research and development team led by Jeffrey Schaal, PhD, Senior Vice President, Theragnostics, who is transitioning from Cereius to SolveTx. The company is investing in research facilities located at the recently completed Biolabs NC Gradlab building in downtown Durham, NC to support this development initiative.
About Solve Therapeutics
Solve Therapeutics, Inc. (SolveTx) is an oncology-focused biopharmaceutical company dedicated to developing novel antibody-based therapies targeting tumor-specific antigens. The company's formation has reunited members of the former VelosBio Inc. (VelosBio) team, a highly experienced group with a proven ability to rapidly advance innovative therapeutics that address unmet medical needs in the treatment of cancer. At VelosBio, they developed a first-in-class, anti-ROR1 antibody-drug conjugate (ADC), zilovertamab vedotin, leading to the company's acquisition by Merck & Co. for $2.8B in 2020.
Since its founding in late 2021, SolveTx has been actively pursuing discovery and development efforts at its state-of-the-art laboratory facilities in San Diego, California and Durham, North Carolina. The company has licensed or generated targeting antibodies and nanobodies with ideal characteristics to serve as the backbones for antibody-based therapeutics and has rights to technology supporting development of diagnostic and therapeutic antibody-radionuclide conjugates (ARCs). SolveTx is supported by a syndicate of sophisticated healthcare investors, including AyurMaya Capital Management Fund (an affiliate of Matrix Capital Management), Decheng Capital, General Atlantic, and Surveyor Capital (a Citadel Company).
About Cereius
Cereius, Inc. was established as a privately owned, preclinical stage company developing novel approaches to diagnosing and treating cancer. The Cereius proprietary radiolabeling chemistries increase the uptake and retention of radionuclides at the target tumor while minimizing accumulation in normal tissues, significantly enhancing the therapeutic index and diagnostic potential of targeting agents. The Cereius radiochemistry platform is based on intellectual property exclusively licensed from Duke University.
Contact
Yakov N. Kogan, PhD, MBA
SVP, Operations & Alliances
Solve Therapeutics, Inc.