Science and engineering students gather to discuss what it means to be an entrepreneur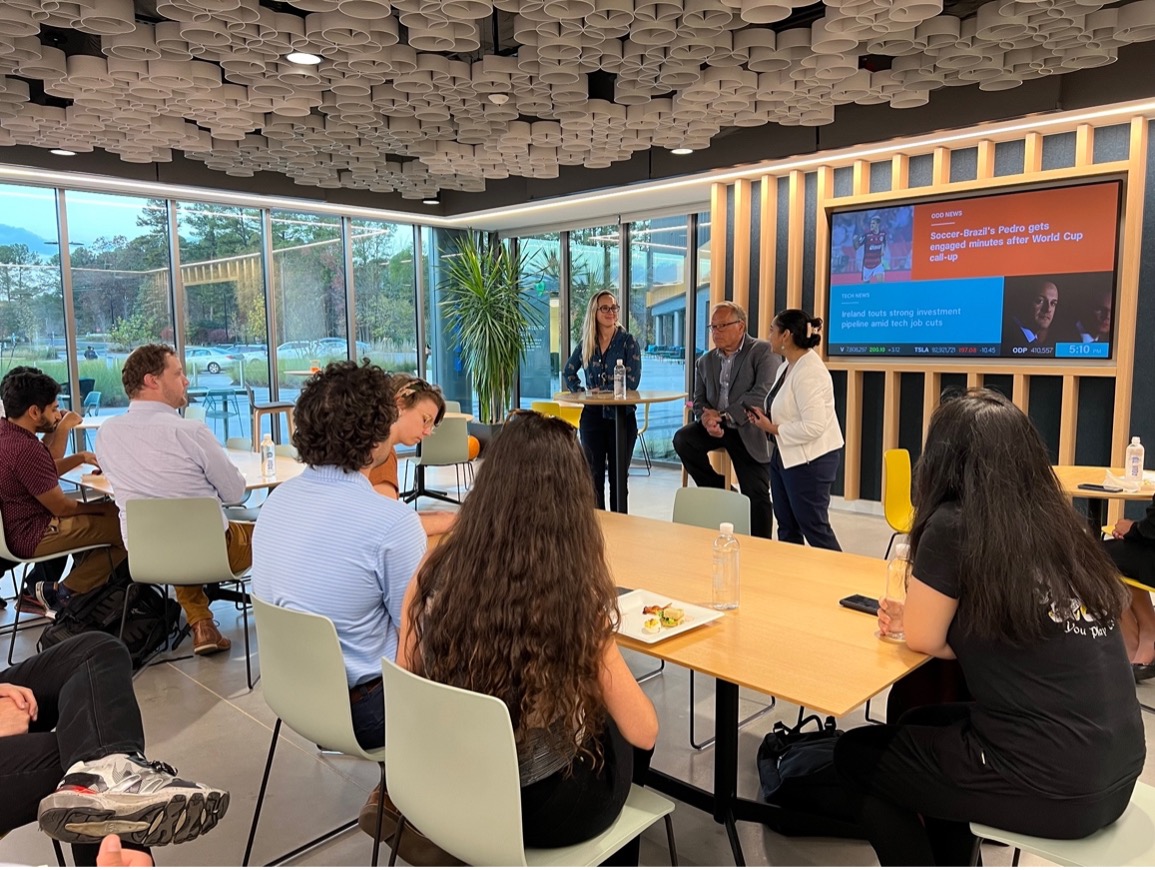 by Lou Ward
On the last warm day of the year, inquisitive minds from the Triangle's universities met at Alexandria LaunchLabs in RTP to connect on a shared pursuit with sweeping implications: how to bring their scientific curiosity out of the lab and into the world. Dr. Rob Lindberg, VP of Science and Technology Development at the North Carolina Biotechnology Center, spoke about entrepreneurship to scientists of all ages, including undergraduate computer science students from NC State, PhD candidates in Duke's OTC Fellows Program and UNC's Venture Catalyst Program, and post-docs from around the Triangle.
Over the course of the evening, students connected with one another, discussed their areas of scientific expertise, and deliberated on how to tackle the challenge of applying their deep domain knowledge and academic skillset to a commercial problem space. When it came time for Dr. Lindberg to give his talk, he transformed the atmosphere from that of a lecture hall to a Socratic Seminar, sharing his experience and opinions and asking for the crowd's in return.
Though the attendees all have unique areas of academic curiosity, they shared an interest in pursuing what Dr. Lindberg called "alternative scientific careers." And eager as they were to know the ins and outs of what career pathways might be out there for them, Dr. Lindberg and the students' conversation evolved into a deeper examination at the heart of that pursuit — what it means to be an entrepreneur within the sciences.
Being an entrepreneur can mean many things, agreed the room. It could look like being the Founder and CEO of a company. It could also look like being a manager or a bench scientist at a life science company, working toward a greater mission from within an organization. A job title does not define an entrepreneur. Ultimately what defines entrepreneurship is a mindset, a set of qualities that define how you approach a problem. It requires storytelling, passion for the science and its impact, persistence in the face of rejection to bring your innovation to life, flexibility in an ever-changing scientific landscape and economic market, and the capacity to assess risk, to know when to re-evaluate your position and to know when to take bold steps.
In addition to their variety of academic backgrounds, the attendees spanned a broad range of professional interests. One scientist at the event, Varun Nalam, PhD, is currently a post-doc at the Neuromuscular Rehabilitation Engineering Laboratory at NCSU. Varun is also the CEO and Co-Founder of Avex Motion, with the mission of revolutionizing physical therapy with robotics. Varun started his business as a way to bring scientific innovation to patients.
"I see scientists pushing the envelope in the lab every day. I want to use science to bridge the gap between what's in the lab and what the public has access to."

Varun Nalam, PhD — CEO and Co-Founder of Avex Motion
Another attendee, Lyla Stanland, is a Senior Fellow in Duke's OTC Fellows program and is in the last year of her PhD researching Epstein-Barr virus-associated gastric cancer. Lyla joined the OTC Fellows program because she wanted to learn how to take basic science and bring it to the market. For Lyla, she is fascinated by the science, and she sees the entrepreneurial side of science making an undeniable impact.
"I really enjoy doing science, [and] I want to continue to do bench science after I graduate… You can still pursue really interesting scientific questions in industry."

Lyla Stanland, PhD Candidate and OTC Senior Fellow at Duke University
As the sun set on the event, students lingered to talk about their takeaways from Dr. Lindberg's talk and to share their excitement for what might come next.
This event was supported by a grant from the U.S. Economic Development Administration.
---
We go into science to make an impact — to explore the world with voracious curiosity in the hopes of using what we learn to make the world a better place. And there are countless ways to do just that.
Duke's OTC Fellows program helps Duke students explore non-traditional scientific career paths outside of academia. Read about our Fellows and their work to learn more about what the OTC Fellows program offers.