Precision BioSciences Opens New Manufacturing Facility in Durham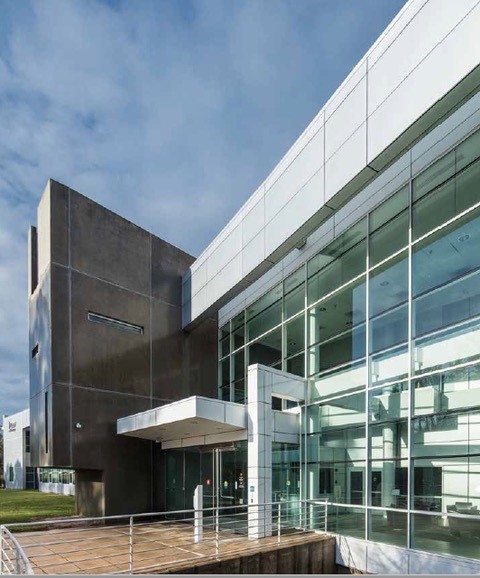 Precision BioSciences, a genome-editing company based in Durham, announced today the opening of its highly prized production facility for in-house manufacturing of its unique technologies.
Calling it the Manufacturing Center for Advanced Therapeutics (MCAT), Precision touts the facility as "the first in-house current Good Manufacturing Process (cGMP)-compliant manufacturing facility in the United States dedicated to genome-edited, off-the-shelf chimeric antigen receptor (CAR) T cell therapy products."
CAR T cell therapies are opening the door to a whole new way to fight cancer. But they also require a highly specialized manufacturing process, in which scientists engineer T cells – a type of immune system cell that recognizes invading germs or cancer cells – to enable them to carry a tumor-targeting "warhead" called a chimeric antigen receptor (CAR).
Traditional CAR T cell therapy technologies isolate cells from cancer patients' blood and re-engineer them to specifically target receptors on tumor cells. The reprogrammed cells are multiplied in a laboratory and then returned to the same patient, to target that patient's tumor. These are called autologous CAR T cells, and their creation involves a complex and lengthy process.
Precision's proprietary ARCUS genome editing technology enables the production of CAR T cells derived from healthy donors rather than relying on the patient's own blood. These "off-the-shelf" products are called allogeneic CAR T cells. This approach aims to overcome the manufacturing-related limitations of traditional autologous CAR T therapies and enable a broader range of malignancies to be targeted.
Precision's product candidates can be made in advance, manufactured in large batches and then cryopreserved for shipment, storage and off-the-shelf use.
Precision's ARCUS genome-editing platform also streamlines the therapeutic process because it removes a T cell receptor in order to prevent graft versus host disease, avoiding the need for donor-patient matching required in traditional tissue donation procedures. ARCUS editing also enables targeted insertion of the CAR gene into a single, specific location in the T cell genome for more controlled, consistent expression.
"As part of our mission to overcome cancer and provide valuable new treatment options for patients, we are rapidly advancing a pipeline of next-generation, off-the-shelf CAR T product candidates and we anticipate, once optimized, this platform will be able to support two new clinical programs per year," said Matt Kane, chief executive officer and co-founder of Precision.
"Given the potential output of our platform, we've known from the beginning that it was critical for us to address the need for scalable manufacturing of cell-therapy products in order to be able to effectively deliver them to patients. In addition to our clinical work, it also has the potential to be a commercial launch facility with the capacity to generate up to 10,000 doses of CAR T cell therapies and 4,000 doses of gene therapies per year."
[Originally posted by WRALTechWire — July 18, 2019]