Polarean Files NDA for Lung Diagnostic, Possible COVID-19 Aid
Polarean, a Duke University spinout, is another step closer to commercializing its proprietary technology for lung imaging.
This month, the Durham-based medical imaging company submitted a New Drug Application to the U.S. Food and Drug Administration for its hyperpolarized Xenon gas drug-device system used in conjunction with magnetic resonance imaging.
Its CEO Richard Hullihen said the system could potentially reach millions of patients in need of a novel tool to better understand their lung disease – including those suffering from the lingering effects of COVID-19.
"Although we did not specifically foresee any specific pandemic or its effects, we look forward to seeing the results of the planned and ongoing research in this application as well," he told the North Carolina Biotechnology Center in an interview.
The company is requesting priority review from the FDA, which could shorten the approval time to eight months, he said.
The road to submission
Polarean's application follows the completion of two successful Phase 3 trials of its three-dimensional technology, which has been limited to research labs so far.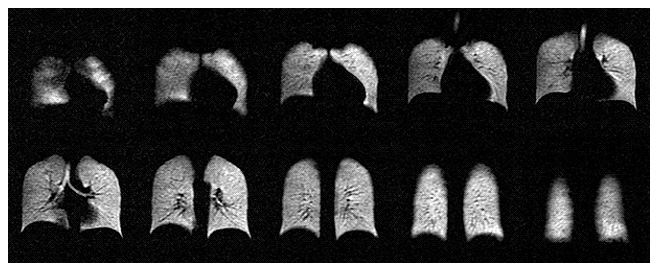 In these trials, 129Xenon was administered as an inhaled gas in a 10-second breath-hold procedure.
When used in conjunction with MRI, these gases offer a fundamentally new and non-invasive functional imaging in patients being evaluated for possible lung resection surgery and lung transplant surgery.
For the trial participants, the ventilation in zones of interest was quantified and compared to images, similarly quantified, but derived from a different imaging technology.
The company's two multi-center randomized, open-label studies compared MRI with 129Xenon gas, polarized in Polarean's system, to 133Xenon scintigraphy.
"Both of our Phase 3 trials hit their primary endpoints with flying colors," Hullihen said.
"More than 30 million Americans suffer from a chronic lung disease and we see a significant unmet need for non-invasive, quantitative and cost-effective image-based diagnostic technology without exposing patients to ionizing radiation. We look forward to working with the FDA to address this unmet need."
Support from NCBiotech
The company launched in January 2012, after securing all of GE Healthcare's assets in the field of hyperpolarized gas MRI, including the exclusive rights to approximately 30 patent families.
In 2017, NCBiotech helped Polarean develop its technology for human use with a $250,000 Small Business Research loan. Polarean is now a public company, listed on the AIM Market in London.
Polarean systems are also installed at academic research institutions worldwide, including the United States, Canada, the UK, Germany, and Sweden.
Hullihen said NC Biotech's support was critical.
"Having access to talented people and supply chains in the region are crucial for small business development in the life sciences," he said. "We were the beneficiary of an early small business loan, which came at an important developmental point in our history. We are grateful for the ongoing support of the NCBiotech community as we continue to advance toward FDA approval for this promising technology."