Nucleate will Award up to $1.5 Million to Biotech Founders in Partnership with Petri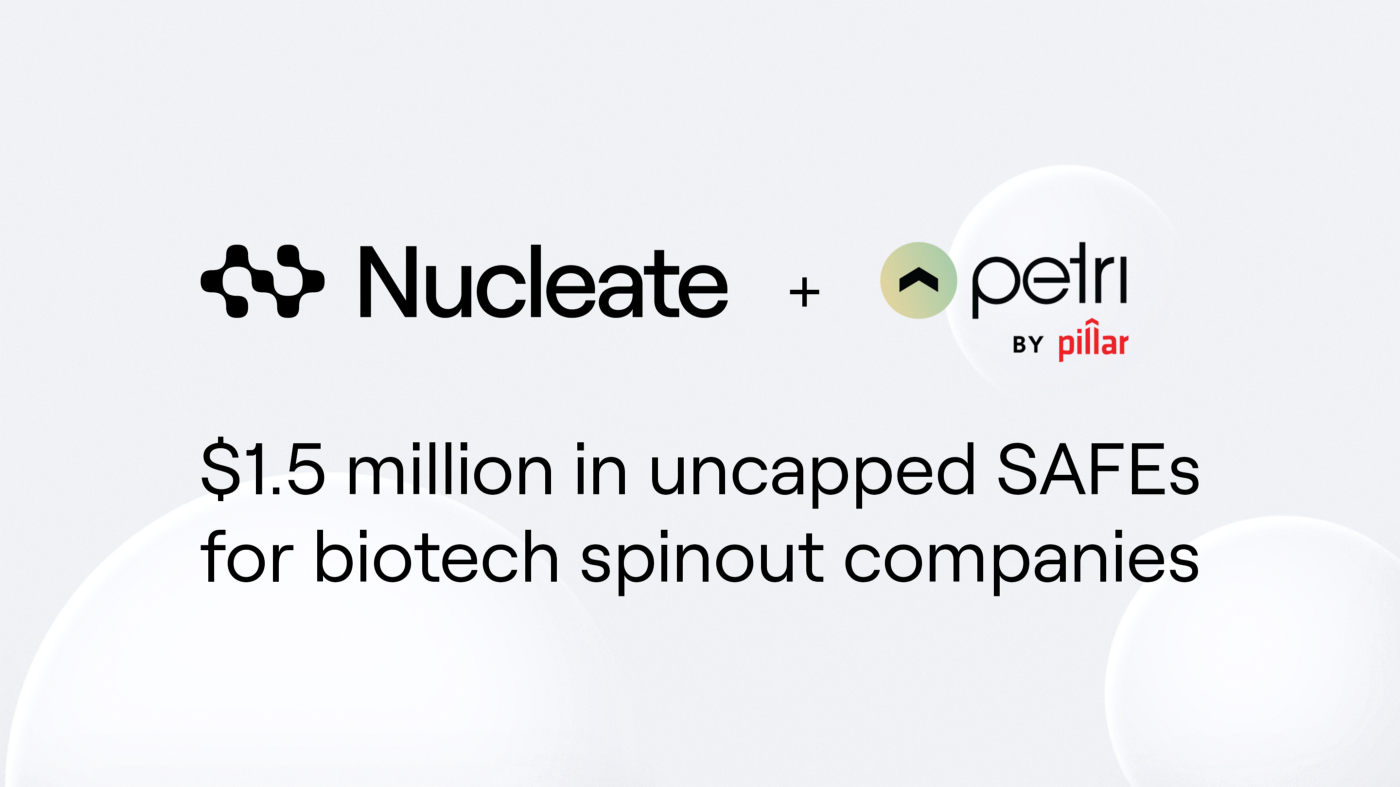 Nucleate, the nonprofit organization led by academic trainees and dedicated to empowering future biotech leaders, announced Petri Funding Awards totaling $1.5M to accelerate startup formation from its nationwide Activator program. The award is organized in partnership with Petri, the program dedicated to formation-stage biotech spinouts within venture capital firm Pillar VC.
Nucleate's equity-free Activator program has so far supported 30 venture teams at the earliest stages, including Glyphic, Concerto Biosciences, and Manifold Bio. Participants meet potential co-founders and are trained and equipped with an unparalleled network, funded fellowships, legal support, and highly subsidized perks. It launched this year across 10 biotech hubs and emerging ecosystems in the United States, expecting to aid the creation of dozens of companies.
Prospective applicants for the 2021–2022 Activator cohort cycle can visit www.nucleate.xyz to apply by November 8.
The Petri Funding Awards add to Nucleate's arsenal of founder-friendly resources and offer direct funding opportunities to its teams for the first time. The Awards will be SAFE agreements (simple agreement for future equity) without a valuation cap or discount, and founders can choose to defer for up to a year. This mechanism gives founders a simple way to access the funding to get started without valuing their company upfront, and only later converting the funding to an equity investment at a subsequent financing round. Nucleate will select up to 8 award recipients from a pool of up to $1.5 million.
"Great innovation can come from anywhere, and Nucleate is creating access to the best mentorship in the world for entrepreneurial students and postdocs," said Tony Kulesa, co-founder of Petri. "We are thrilled to partner with their team to provide catalytic funding for teams starting out on their journeys."
"Every entrepreneurial story is different, and every founder requires a different set of resources to get started," said Soufiane Aboulhouda, Nucleate founding President, Chairman of the Board, and PhD candidate at Harvard Medical School. "Petri has emerged as a global leader for empowering biotech founders, and we're excited to partner around exceptional founder-friendly resources, especially for regions with emerging biotech communities."
About Nucleate
Nucleate is a nonprofit organization dedicated to empowering the next generation of biotech leaders, with chapters spanning 10 regions and participation from over 60 academic institutions. Nucleate identifies future biotech entrepreneurs, removes barriers, and helps founders concentrate on building transformational technologies. Visit www.nucleate.xyz for more information.
About Petri
Petri is a program co-created with Pillar VC dedicated to funding formation-stage startups at the intersection of biology and engineering, and supporting founders in building world-class teams, developing intellectual property, finding customers, and raising a subsequent round of financing.
Petri is co-founded by entrepreneurs who have built iconic companies (Brian Baynes, Emily Leproust, Stan Lapidus, Daphne Koller, and many more) as well as academics who are driving foundational science in bioengineering (George Church, Pam Silver, Chris Voigt); together we have deep experience developing ideas into successful companies across human health and sustainability.
About Pillar VC
Pillar VC is a seed-stage venture firm in Boston co-founded by 22 CEOs, including the leaders of Ginkgo Bioworks, Iora Health, Cytyc, DraftKings, and Wayfair. The firm's investments include PillPack, Desktop Metal, Kuebix, Algorand, Asimov, and PathAI, among others. Pillar believes that the strongest relationships start from a position of trust, and that VC doesn't have to be the dark side. The firm aligns with founders by providing resources and support, and by offering to buy common stock — the very same type of stock founders own. To find out more about Pillar VC please visit: http://www.pillar.vc.