Lumedica looks to fine-tune low-cost OCT system with SBIR grant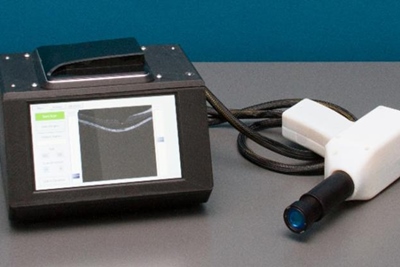 Duke University spin-out wins Phase II funding to further develop device for clinical applications in low-resource settings. Lumedica, the startup company spun out of co-founder Adam Wax's Duke University research group, has won a $1 million small business innovation research (SBIR) grant to further develop its low-cost optical coherence tomography (OCT) platform.
The Phase II funding, supported by the US National Institutes of Health (NIH) and National Eye Institute (NEI), is intended to help the company deliver a system for point-of-care diagnosis of debilitating retinal diseases.
Meanwhile, Wax and colleagues have just published results from the first clinical study using Lumedica equipment for retinal imaging, with results suggesting strong potential for its use in low-resource settings in the US and beyond.
Gold standard
Seen as the gold standard for early detection of diseases including macular degeneration, diabetic retinopathy and glaucoma – each of which can threaten vision while remaining symptomless – OCT remains an expensive procedure.
Partly by basing their optical system around a superluminescent diode (SLD) rather than a laser, Lumedica is looking to reduce the cost of the technology significantly – and already sells its "OQ Labscope" product at a price of just $10,000.
Company CTO William Brown, who previously worked at Wasatch Photonics, another OCT developer, said of the SBIR award: "OCT technology is already a valuable screening tool for many ophthalmologists and optometrists in the US. Sadly, the high cost of current commercially available systems has kept it out of the hands of most the world's eye care providers and patients. We're going to change that."
Collaborating with the Duke University Pratt School of Engineering, Lumedica says it has already demonstrated that its system is highly effective at a more affordable price point, while also enabling greater clinical flexibility. "The Phase II grant will allow Lumedica to further develop a device for the clinical market," it added.
News of the NIH-NEI grant coincided with the Durham, North Carolina, company winning third prize and $250,000 in the latest funding competition supported by the Rochester-based "Luminate NY" startup accelerator.
'Scanning in Starbucks'
Wax and his team have also just published details of the first clinical application of the low-cost OCT hardware, publishing their findings in the journal Translational Vision Science & Technology.
In the trial the low-cost scanner – featuring a 3D-printed spectrometer – produced images of 120 retinas, said to be "95 per cent as sharp" as those taken by current commercial OCT systems, and reckoned to be sufficient for accurate clinical diagnosis.
"Once you have lost vision, it's very difficult to get it back, so the key to preventing blindness is early detection," said Wax in a Duke release highlighting the results. "Our goal is to make OCT drastically less expensive, so more clinics can afford the devices, especially in global health settings."
Key to the cost reduction in this case is the innovative spectrometer design, which is said to take light on a circular path – rather than the conventional combination of lenses, mirrors and precision diffractive optics.
"Because the spectrometer light path is circular, any expansions or contractions due to temperature changes occur symmetrically, balancing themselves out to keep the optical elements aligned," says the Duke team. "The device also uses a larger detector at the end of the light's journey to make misalignments less likely."
Overall, the approach is said to reduce the typical weight of a clinical OCT system from 60 pounds to just 4 pounds, while cutting the cost from at least $50,000 to less than $15,000.
"Right now OCT devices sit in their own room and require a PhD scientist to tweak them to get everything working just right," added Wax. "Ours can just sit on a shelf in the office and be taken down, used and put back without problems. We've scanned people in a Starbucks with it."
[Originally posted by Optics.org — July 9, 2019]