Kymeta rolls out its next-gen connectivity service, blending satellite and cellular links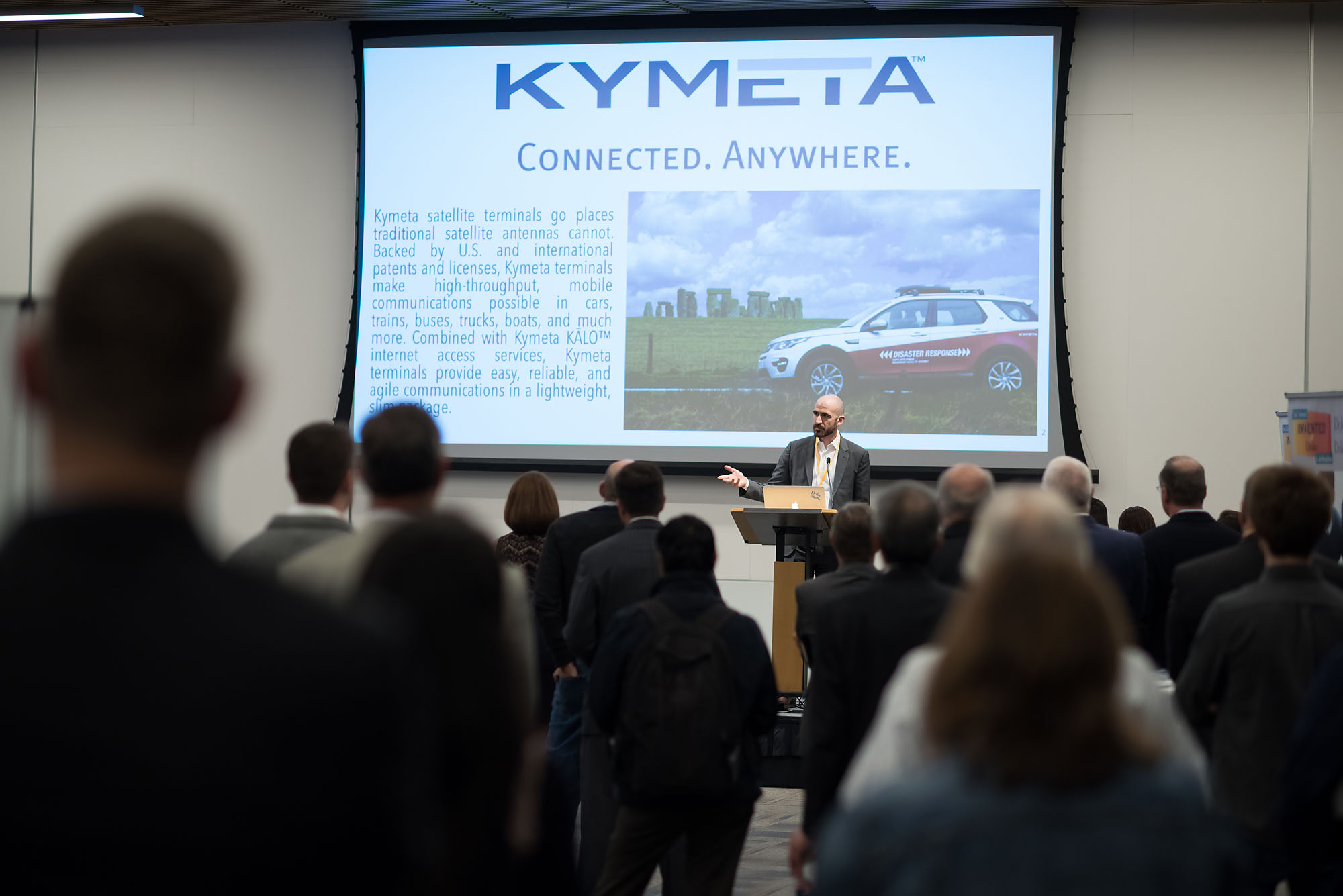 Kymeta Corp., the Redmond, Wash.-based connectivity venture backed by Microsoft co-founder Bill Gates, is making the next generation of its hybrid satellite-cellular mobile service for voice and data available to commercial markets starting today.
And although commercial availability of Kymeta's u8 terminal and Kymeta Connect service marks a milestone, the company's executives consider the government and military market to be just as important.
"Government and military need the most reliable and seamless connectivity to safely fulfill their missions," Walter Berger, Kymeta's president and chief operating officer, said in a news release. "These men and women often go to the most remote or disaster-stricken areas of the world, and they need reliable communications to rescue lives, keep property safe and complete missions."
During beta testing, the u8 system faced a trial by fire — literally.
"When we tested Kymeta's solutions, we could use FaceTime and make voice calls for the first time," said Tim Dunfee, deputy fire chief for the Angeles National Forest in California. "We now have a Kymeta antenna installed on one of our vehicles and deploy it to every forest fire, because we know it has reliable communications wherever it goes."
The heart of the system is a low-power, flat-panel antenna that makes use of a technology known as metamaterials. The technology makes it possible to lock onto satellites electronically, with no moving parts.
Kymeta's u8 system marks a significant step up from the previous u7 antennas, said Neville Meijers, the company's chief marketing, product and platform officer.
"Fundamentally, it's a redesign from the ground up," he told GeekWire. "We heard clearly from our customers that they want to use it in environments where there's extreme heat and cold, so we've adapted the technology for that."
The u8 is available in several configurations, ranging from a straightforward antenna to a turnkey terminal system that can switch between satellite service and cellular service, depending on availability.
During testing, the system demonstrated throughputs of more than 45 megabits per second in land mobile environments, at scan-off angles of more than 50 degrees.
"A lot of customers would call us up and go, 'Holy cow … I'm out here and it's pretty high latitude and I'm getting 20, 30, 40 megabits per second," said Lilac Muller, Kymeta's vice president for product management. "We were pleasantly surprised, they were pleasantly surprised, and it really shows that the performance of the product is exceeding our expectations."
Kymeta executives have long talked about making mobile satellite communication services as easy to buy as mobile cellular service. To follow through on that pledge, the company is rolling out Kymeta Access, an app that can be used on Apple or Android devices or via the Web to manage and monitor Kymeta's connections.
Service packages start at $999 a month for a gigabyte of satellite data and a gigabyte of cellular data. "You can mix and match, based on your use cases," Meijers said.
Kymeta is partnering with a wide range of satellite and cellular service providers — including Intelsat, one of the company's investors — to provide connectivity on land, air and sea. Right now the focus is on North America, Europe, the Asia-Pacific region and the Middle East.
"We will continue to build our network, so if we see a lot of customer demand out of Latin America, as an example, we will grow the network to support that demand in those markets," Meijers said.
Global reach is particularly important for military communications — and that's a big factor behind Kymeta's recent acquisition of Lepton Global Systems, which specializes in satellite services for military and government customers. "We're not just focused on the U.S. DOD [Department of Defense], but we also support other MODs [ministries of defense] outside of the U.S.," Meijers said.
Kymeta says its u8 system and Kymeta Connect service can be upgraded for compatibility with the satellite constellations that are taking shape in low Earth orbit, including OneWeb and SpaceX's Starlink network.
SpaceX is in the process of rolling out Starlink broadband satellite internet service as part of a widening beta test. The U.S. military is trying out Starlink as well. And last month, Microsoft said it would partner with SpaceX to use Starlink for its Azure Space cloud computing platform. All of which raises a question: Will services like Starlink complement Kymeta's offerings, or compete with them?
In their answers, Kymeta's executives take the high road.
"We welcome increasing the flexibility and number of services that our customers can actually use and leverage across the platform," Meijers said. "We're agnostic, so we will support all of the different platforms that are out there."
Muller said that having the big players involved should hasten the development of much-needed standards for satellite service interoperability.
"We believe that we're the leader in terms of the mobile platform that enables all of those services in a mobile environment," she said. "There's a lot of synergies there, as we look at what's happening in the marketplace, to allow us as a leader to join them and move the standards forward — so that we can go through essentially the same cycle the cellular industry has gone through since the '70s."
Update for 9:23 a.m. PT: We've corrected the spelling of Neville Meijers' last name, which was initially missing an "s."