Invented at Duke 2022 brings together the university research, innovation, and entrepreneurship community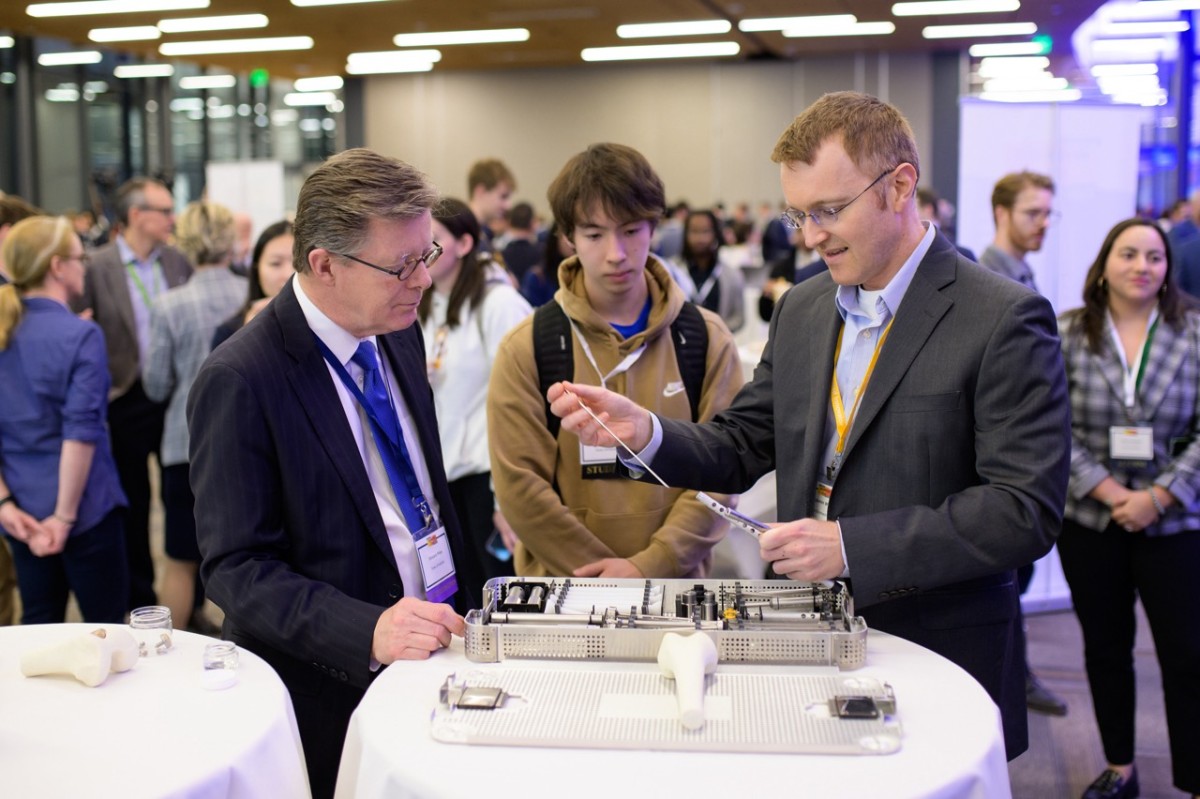 As the sun was setting on Monday, December 12th, the Penn Pavilion on Duke University's campus was alight with activity. Hundreds from the Duke community and entrepreneurial colleagues from across the Triangle were coming together to celebrate Duke inventors and innovations at the 4th Annual Invented at Duke event.
Faculty, staff, students, local investors and entrepreneurs, and many more enjoyed drinks and hors d'oeuvres as they networked with each other and explored booths of featured inventors. Attendees peered into microscopes, tested their strength, performed phase separation demonstrations, and more as featured inventors from across Duke schools showed off their technologies.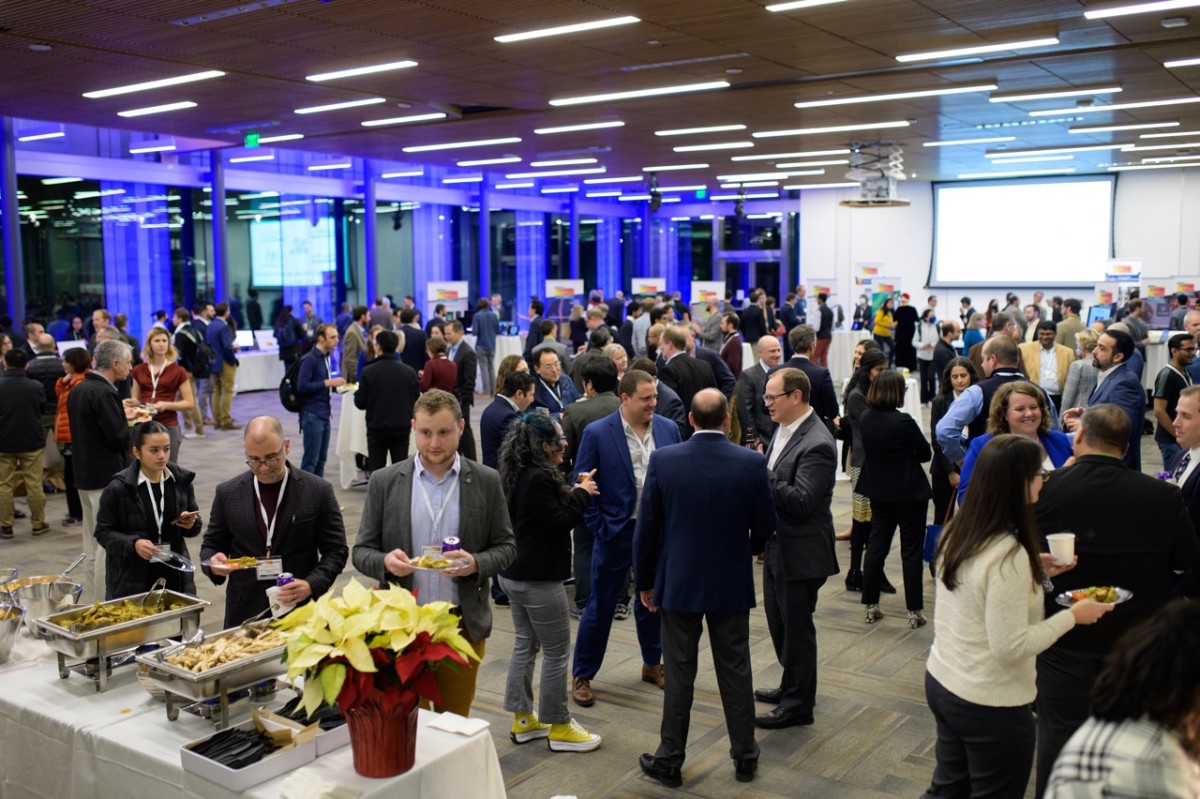 The nine featured inventor booths, listed in more detail below, were not only varied in their departments, but in their technology and career stages. Full professors pitched their technologies alongside graduate students; more established startups rubbed shoulders with nascent prototypes.
What all these featured inventors had in common was plentiful interaction with Duke's Office for Translation & Commercialization, which helped not only protect their technologies' intellectual property but also connect the inventor teams with more resources and mentorship, internal to and external to the university.
This growing capacity to provide longitudinal support for innovators at Duke was highlighted by speakers, including Associate VP for Translation & Commercialization Robin Rasor, Duke University President Vincent Price, and Joe Knight, former CEO of recently-acquired Duke startup InnAVasc, as well as an Executive in Residence at the Department of Biomedical Engineering in the Pratt School of Engineering.
"Over the past few years, when we haven't been together, our office has changed – we've grown," said Rasor. "A lot has been going on at Duke, all in support of the whole research, innovation, and entrepreneurship platform at Duke."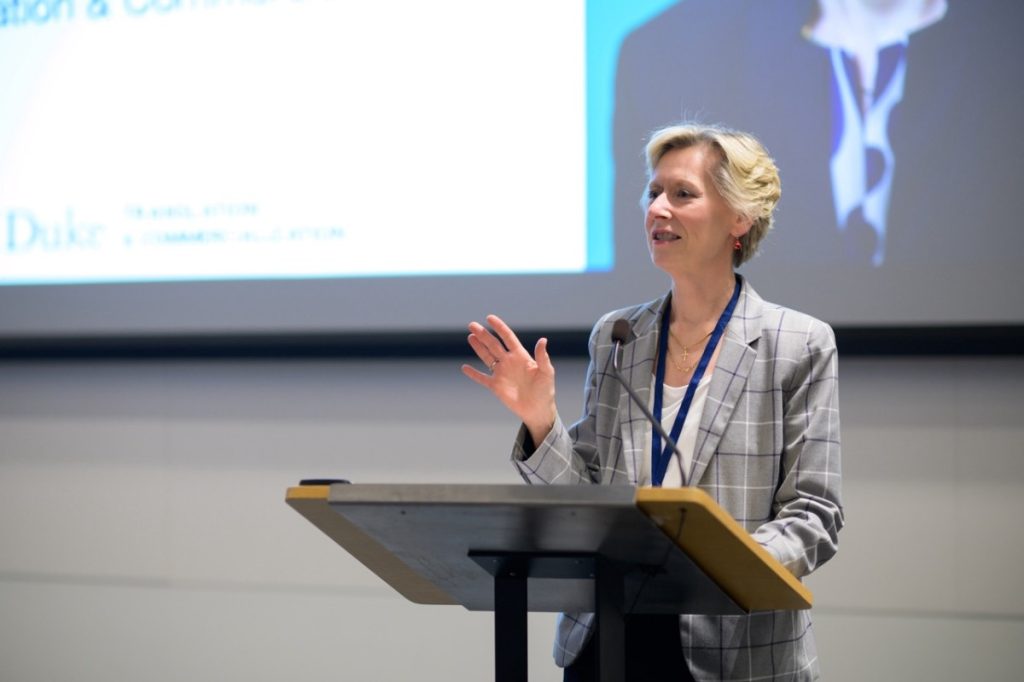 "While we've always had extraordinary scientists and innovators here at Duke, our Science and Technology Initiative over these past several years also is helping to transform our research capacity. It has brought more than twenty new, world-class scientists to our campus, and they are joining our already strong research community to ensure that the discoveries that drive the world of tomorrow happen right here at Duke," said President Price.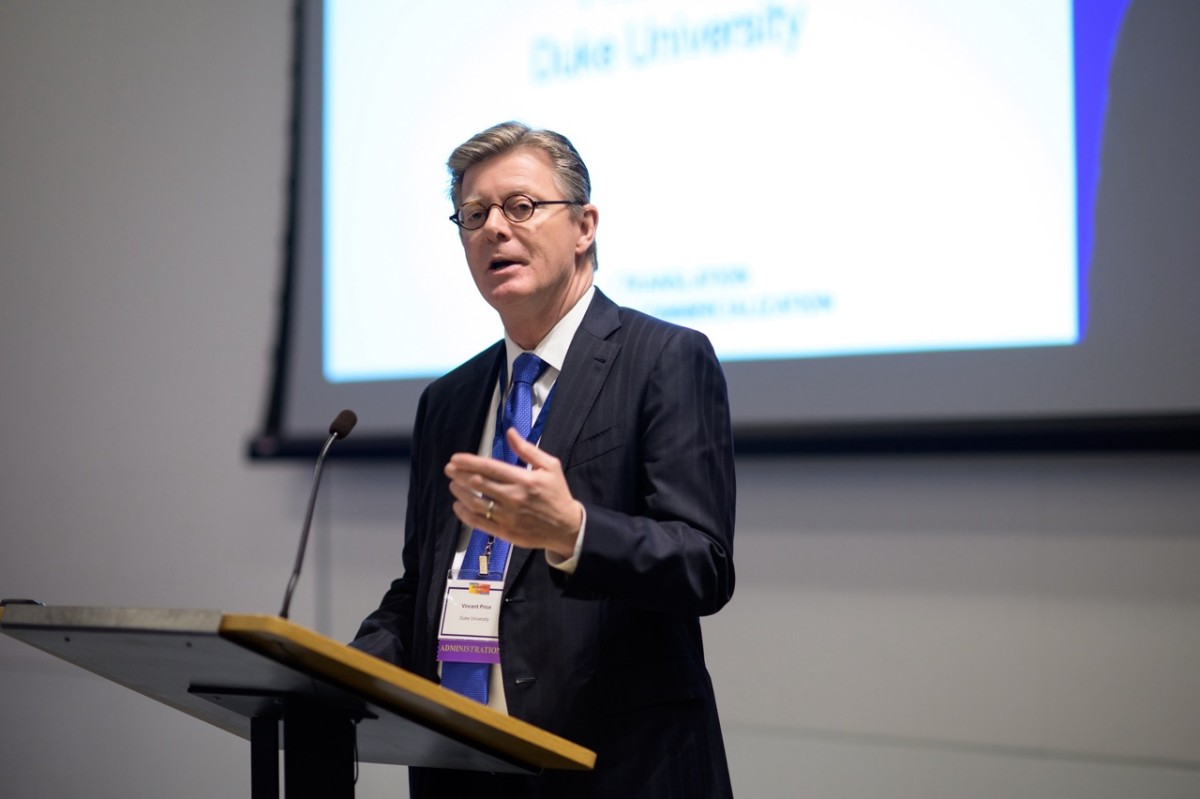 InnAVasc especially is a great example of the continuous support provided by Duke, as that startup was based around technology spun out of the Duke University School of Medicine, was incubated in part with resources from Duke groups, and received multiple rounds of funding from Duke Capital Partners.
"It takes a village to bring forward any new technology, and, boy, what a village we have here at Duke," said Knight.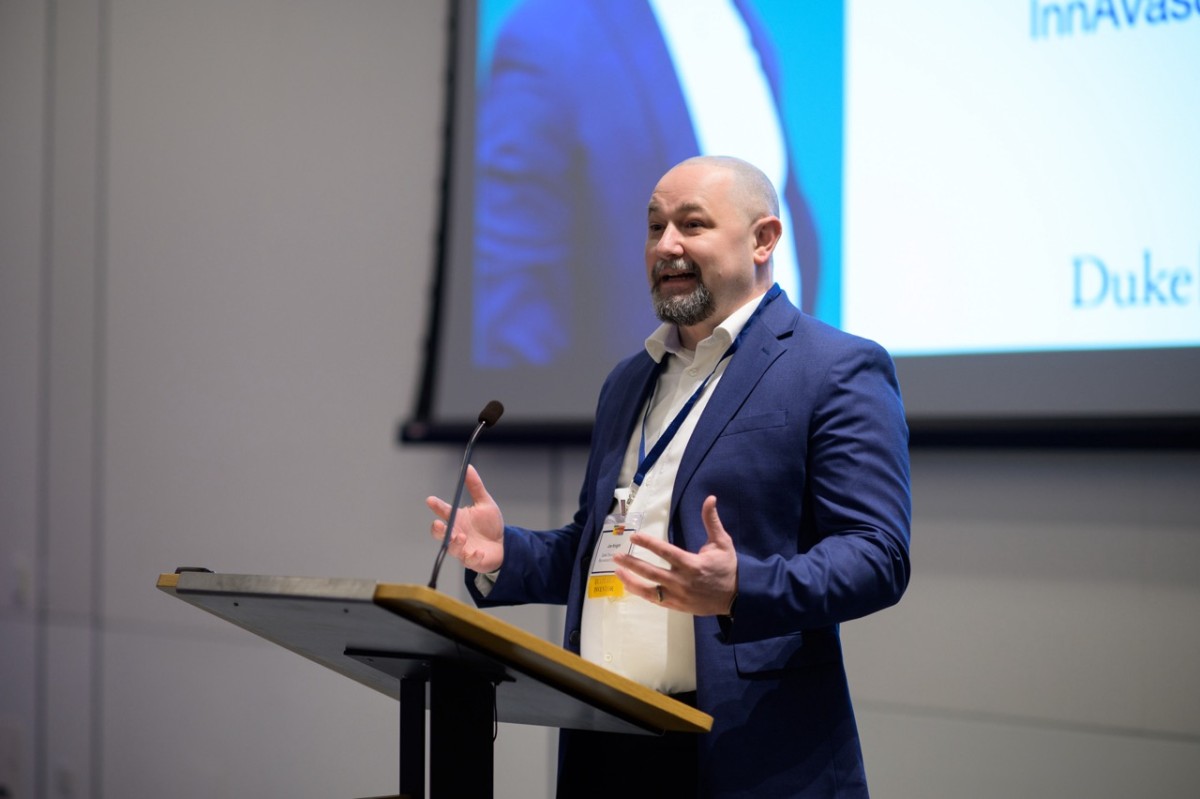 Some of these resources were also featured at Invented at Duke, with sixteen organizations, listed in more detail below, showing the different ways they can support innovators at Duke. From incubator spaces to translational funds, from helping startups to providing hands-on educational experiences for students, there was something for every kind of attendee.
As the evening wound down and attendees were filtering out into the chilly night, Duke inventors were given gifts of branded notebooks – all the better to keep writing down their ideas and jumpstarting new innovation journeys. Whatever the need, Duke's Office for Translation & Commercialization stands ready to support these inventors along the way.
Invented at Duke 2022 was sponsored by:
Wyrick Robbins – Gold Sponsor
Hutchison, PLLC – Silver Sponsor
Michael Best – Silver Sponsor
Featured Inventors:
Michael Dzuricky – Pratt School of Engineering
Isolere Bio is a Triangle-based startup that is re-imagining the manufacturing of biologics. It was founded by Biomedical Engineering PhD graduate Kelli Luginbuhl out of Ashutosh Chilkoti's lab at Duke. Michael Dzuricky, also a former Chilkoti lab member and Biomedical Engineering PhD graduate, is Chief Science Officer.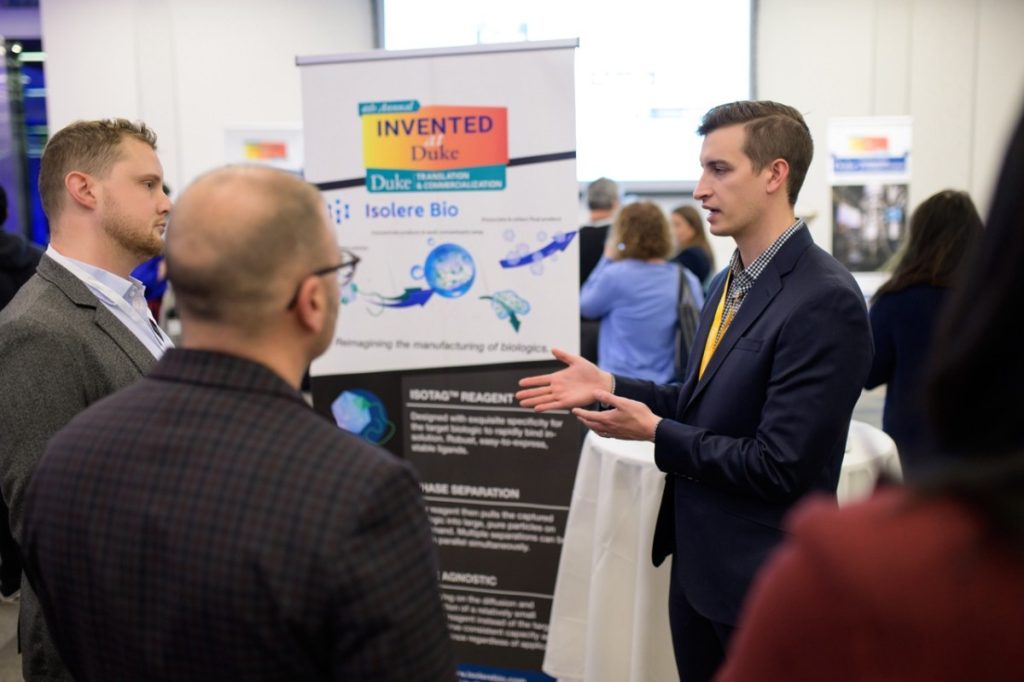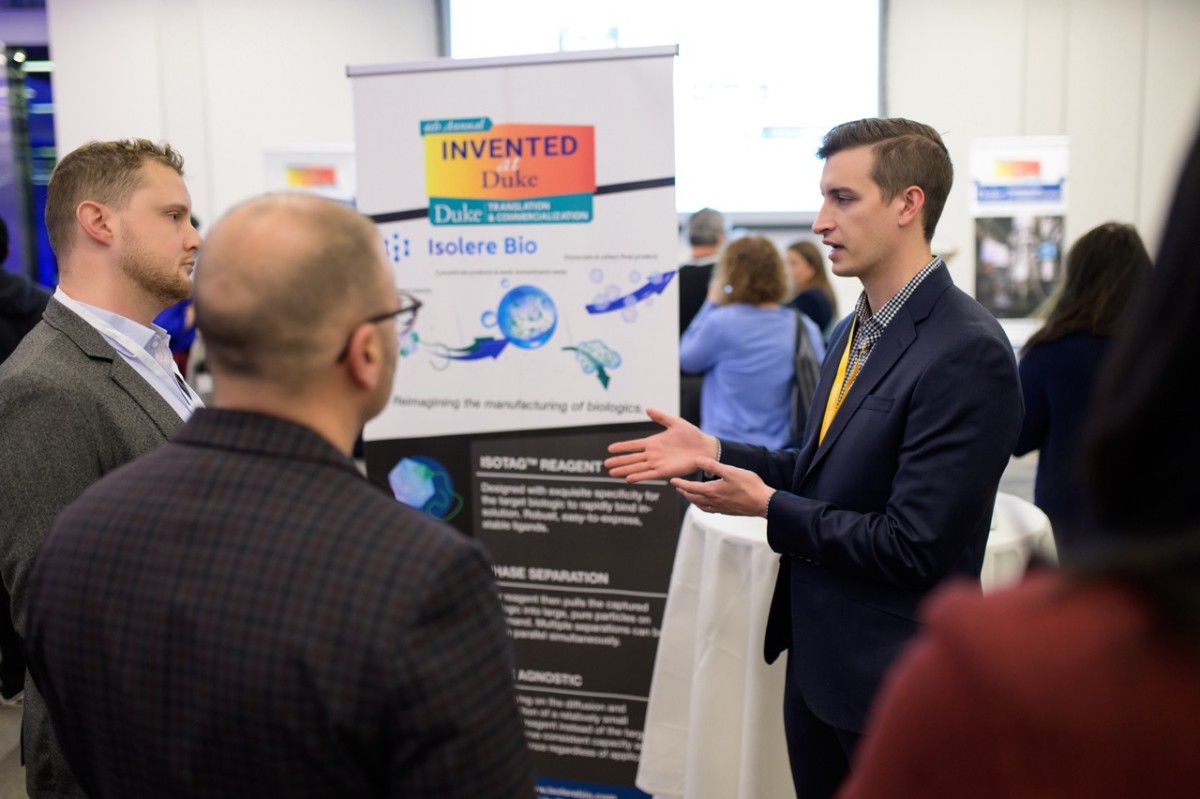 Roarke Horstmeyer – Pratt School of Engineering
Ramona Optics is a Triangle-based startup that makes microscopes with both wide field-of-view and high resolution. Assistant Professor of Biomedical Engineering Roarke Horstmeyer co-founded the company and serves as its Scientific Director.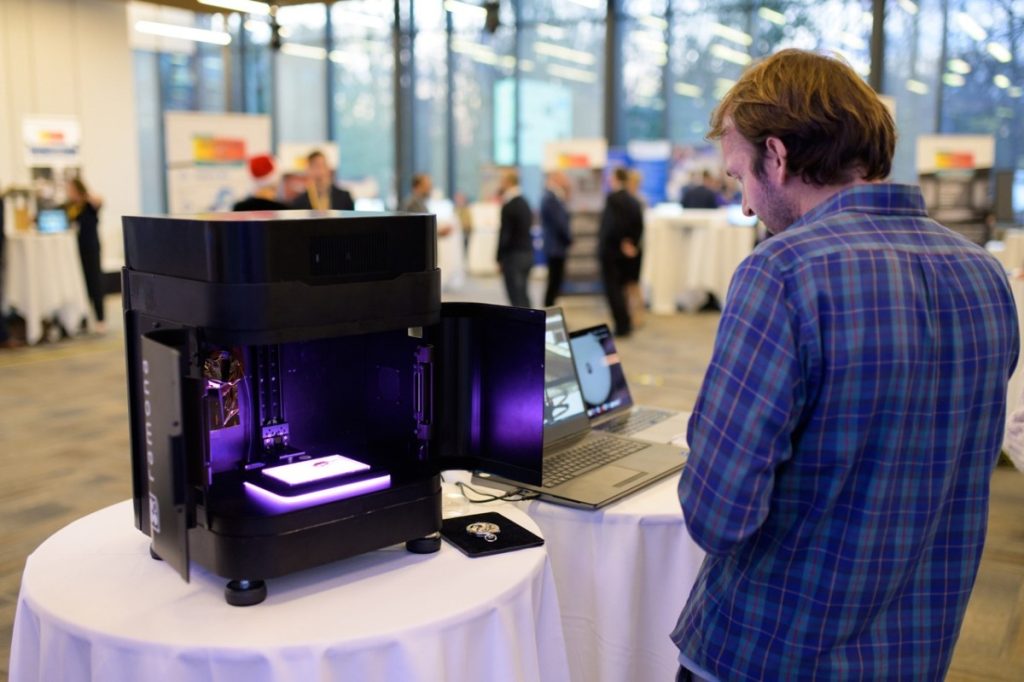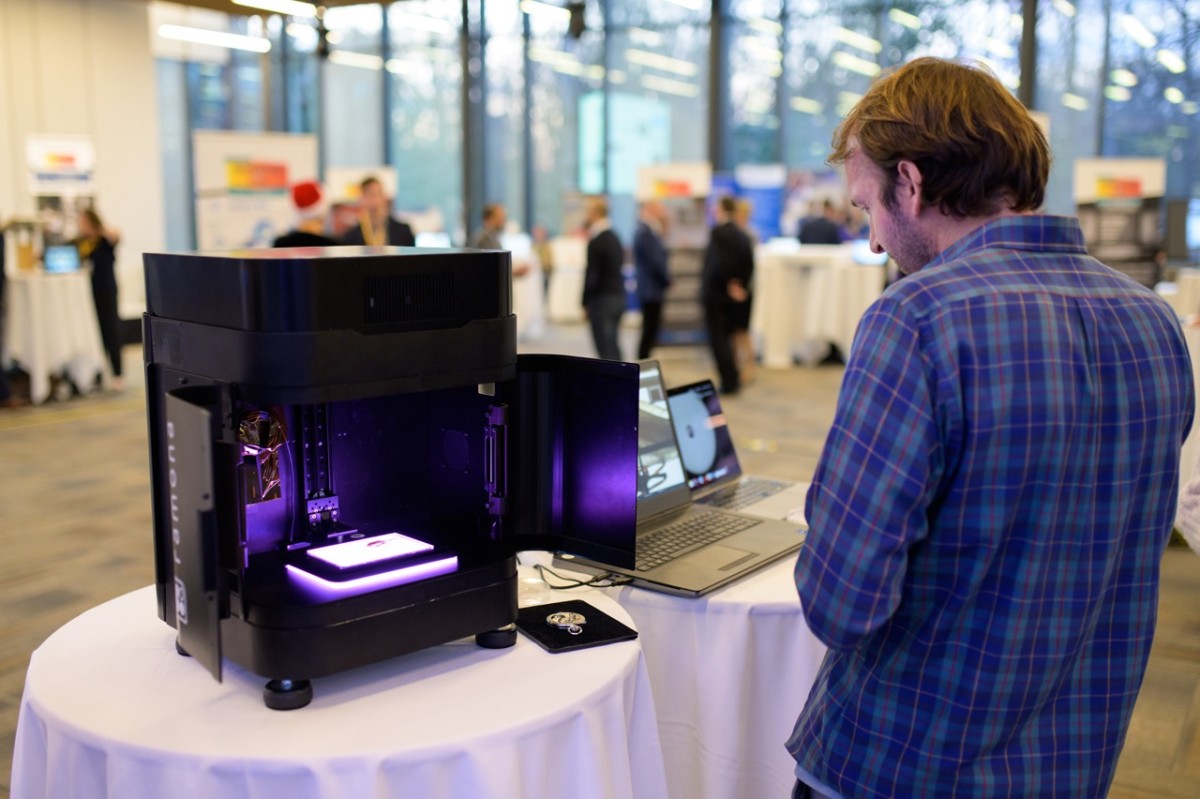 Sujay Kansagra – School of Medicine
Lullabee is a Triangle-based startup that is developing a smart crib mattress that teaches children to sleep better. Associate Professor of Pediatrics Sujay Kansangra is the founder and Chief Executive Officer.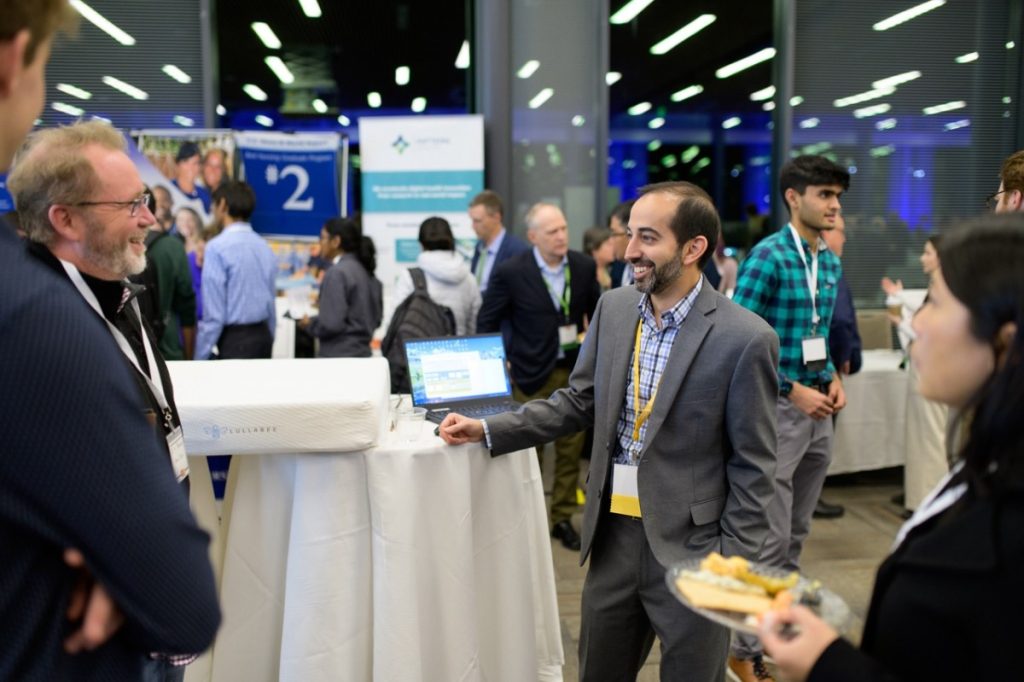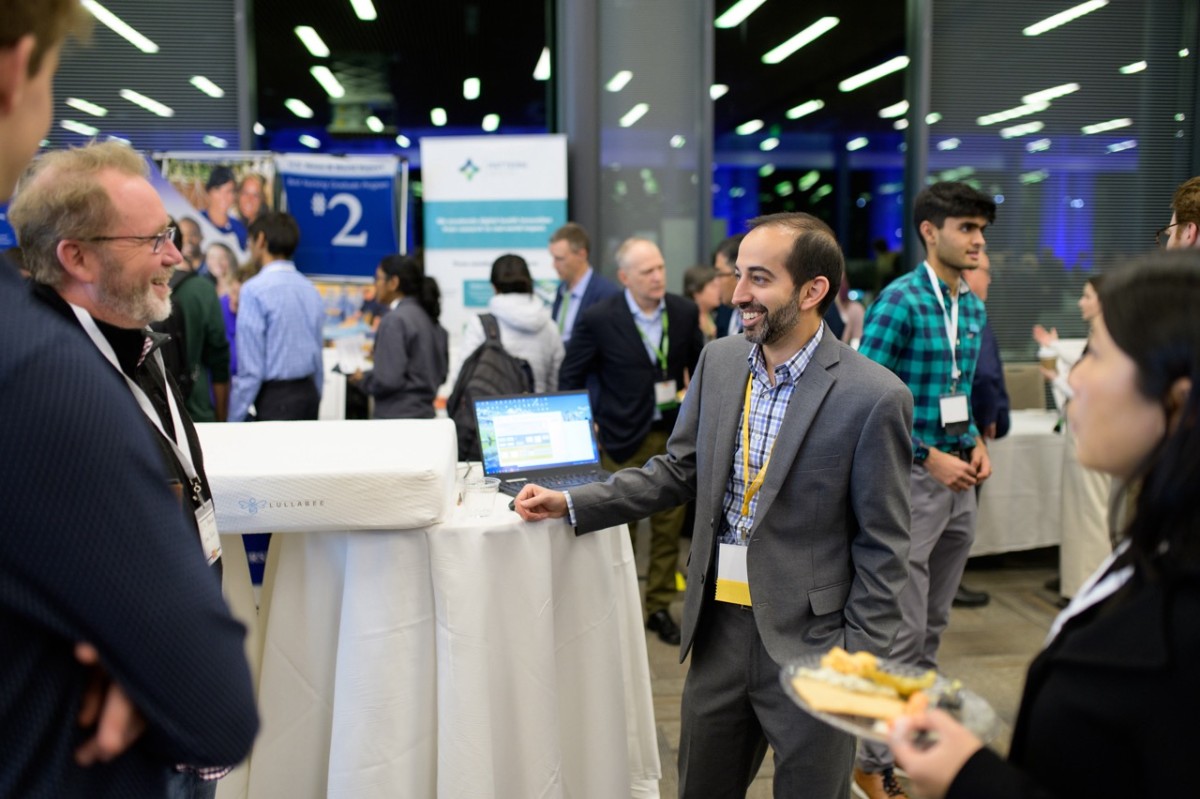 Linda Gray Leithe – School of Medicine
Associate Professors of Radiology Linda Gray Leithe and colleagues are developing a flexible, retractable needle for reaching difficult-to-access targets in the spine. This device is in the prototyping phase.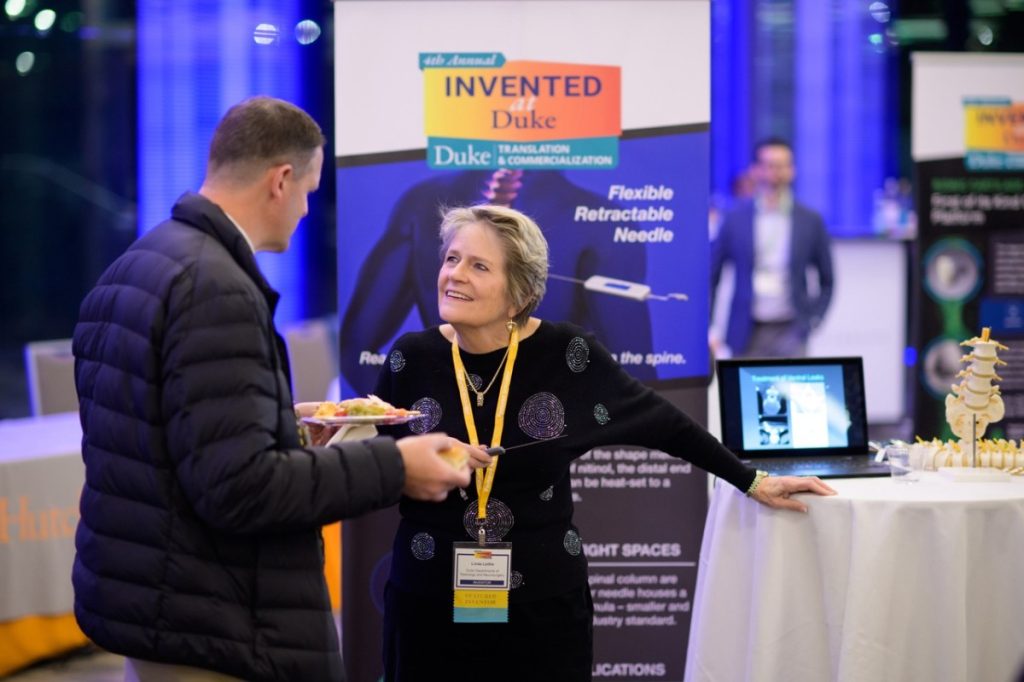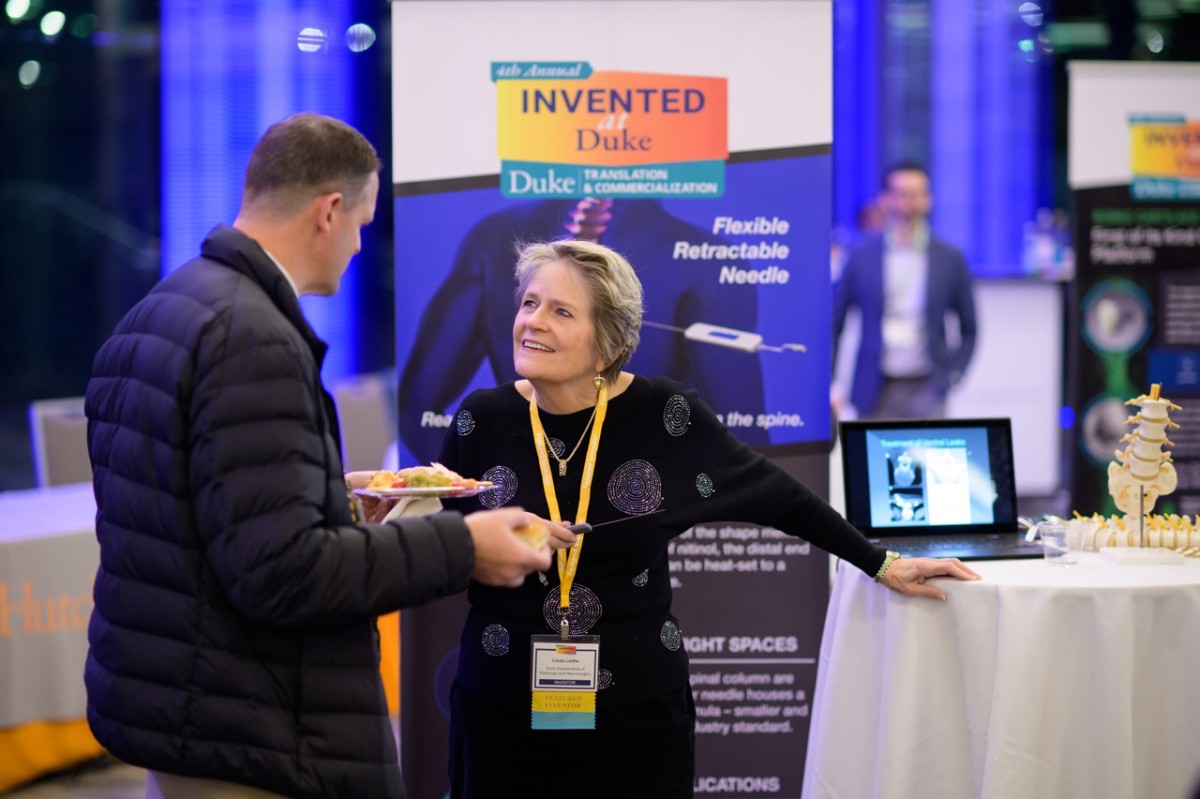 Terrie Moffitt – Trinity College of Arts & Sciences
The Nannerl O. Keohane University Professor of Psychology Terrie Moffitt has developed a machine learning algorithm to find epigenetic DNA methylation markers. While she continues research with her team into diagnosing aging, the algorithm was licensed to TruDiagnostic.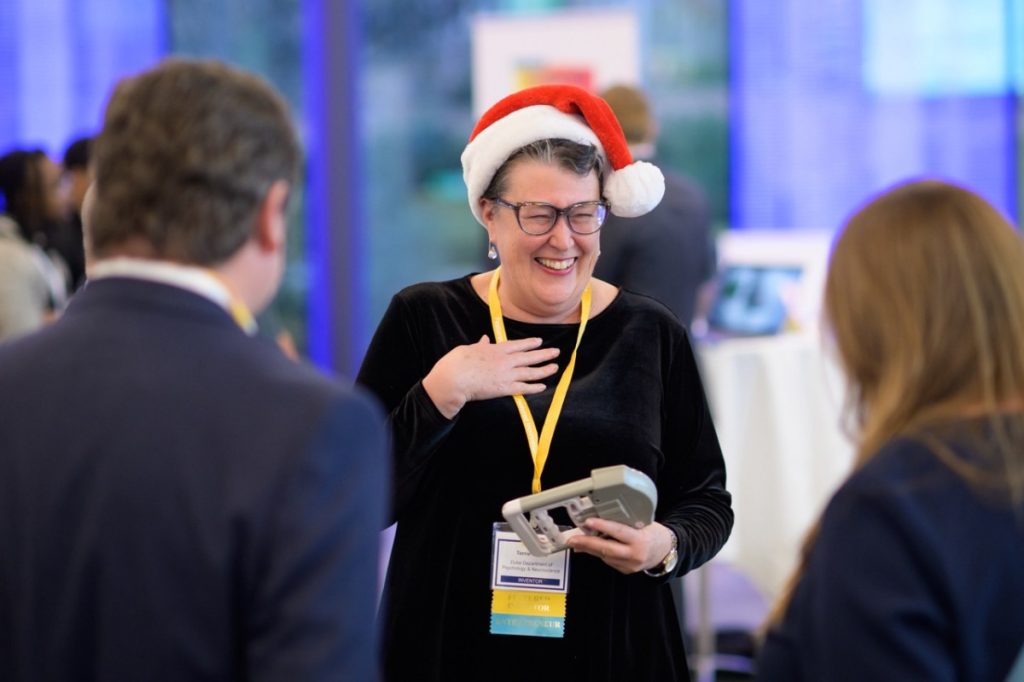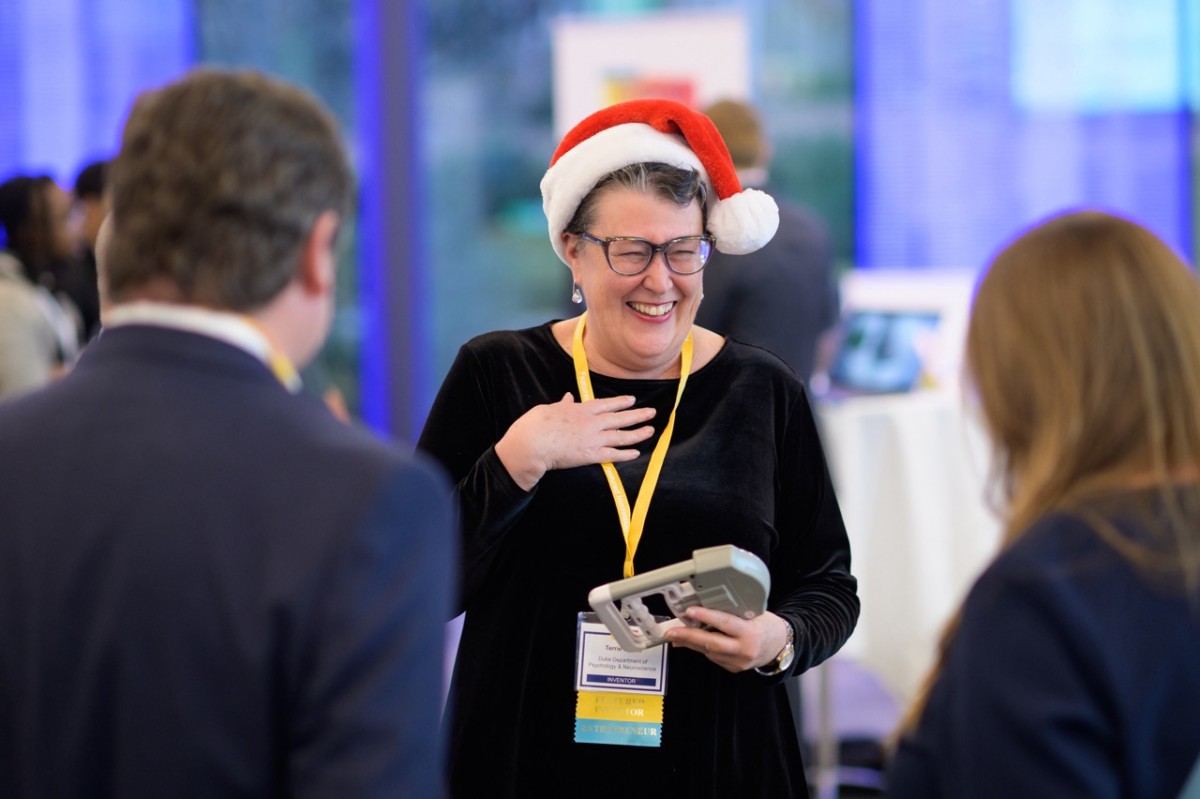 Tobias Straube and Stewart Farling – School of Medicine and Pratt School of Engineering
Assistant Professor of Pediatrics Tobias Straube and Research Scientist Stewart Farling are developing an intravascular membrane oxygenator, a catheter-based device to deliver oxygen directly into the bloodstream. This device is in the prototyping phase.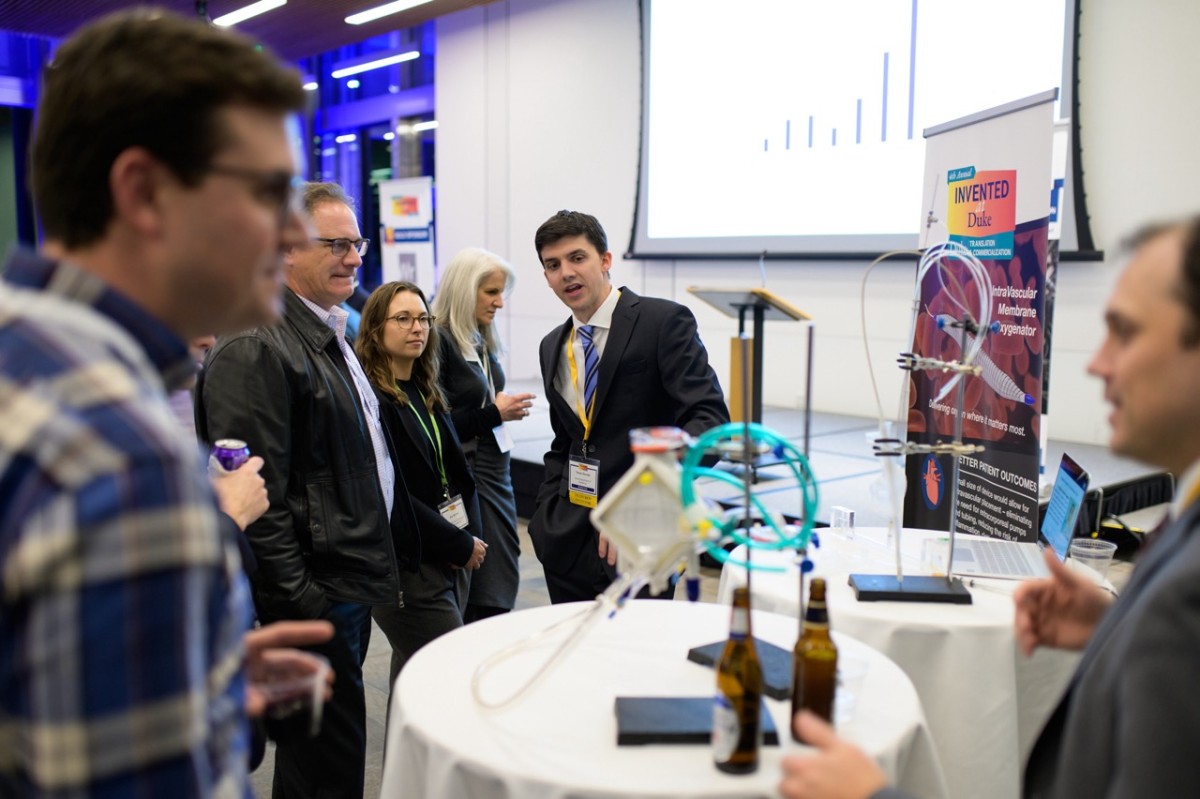 Michael Valerino – Pratt School of Engineering
Solar Unsoiled is a Triangle-based startup developing a software platform to optimize the mitigation of soiling losses from dirty solar panels. Recent Environmental Engineering PhD graduate Michael Valerino is co-founder and Chief Executive Officer.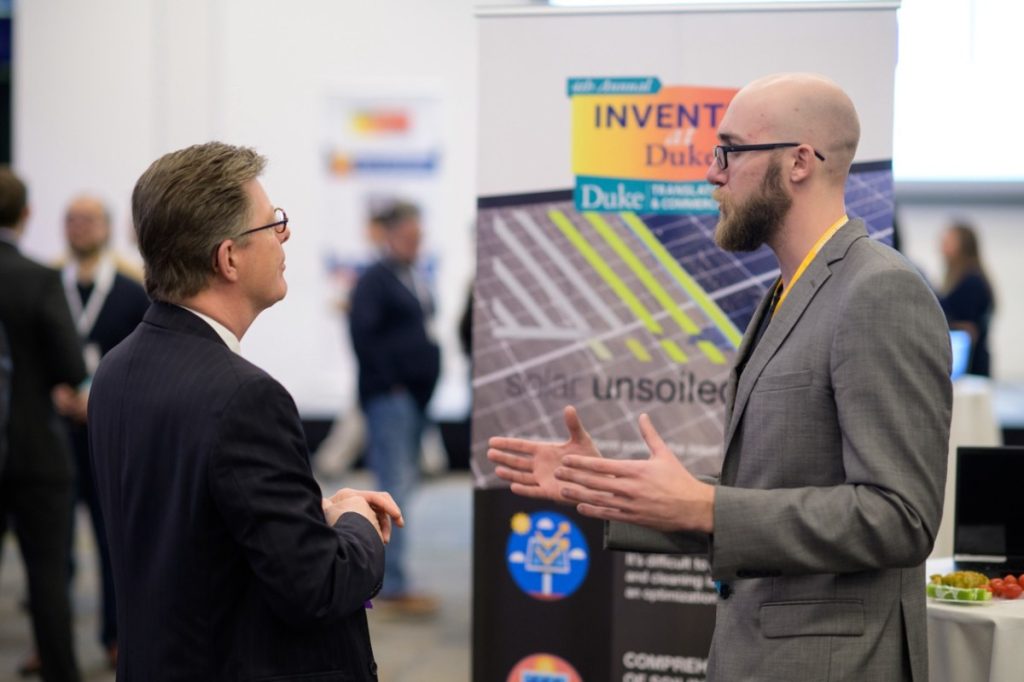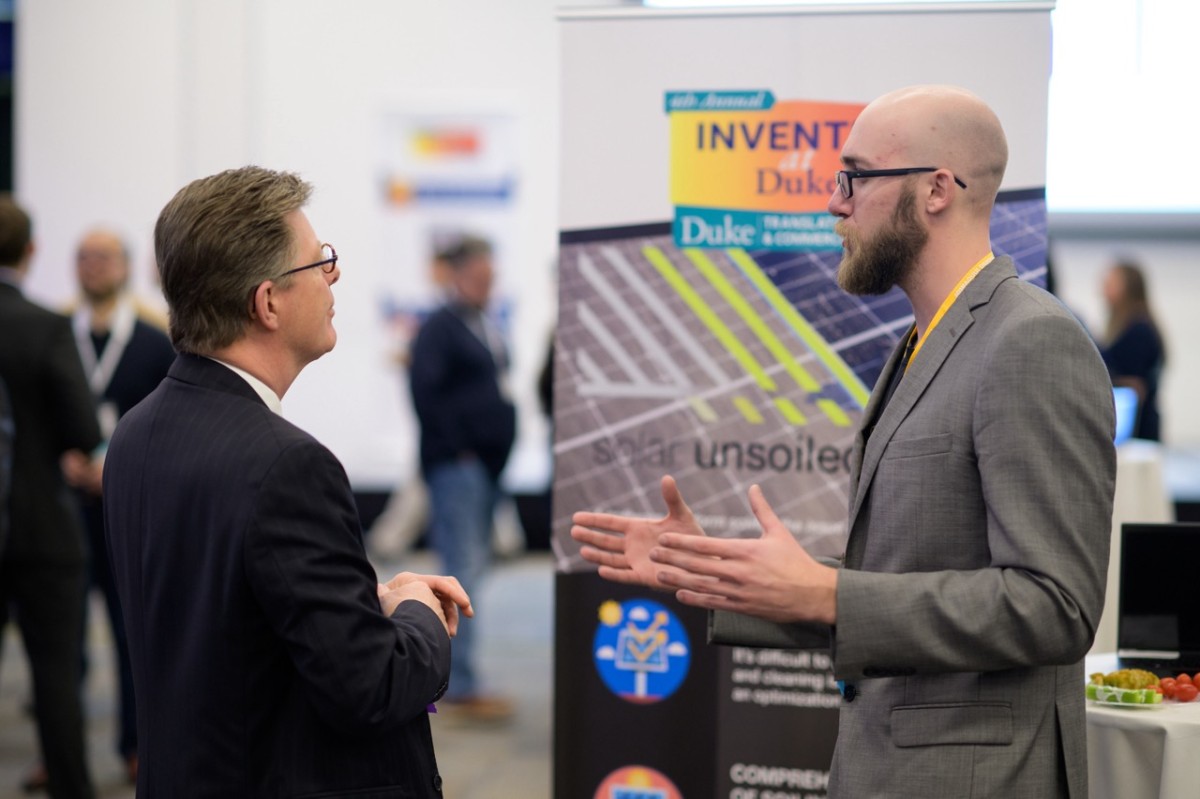 Isaac Weaver and James Roach – Pratt School of Engineering
Biomedical Engineering PhD candidates Zack Weaver and James Roach, both in Michael Tadross' lab, are developing ST3DIO, a multi-angle, single-camera animal behavior arena. This device is in the prototyping phase.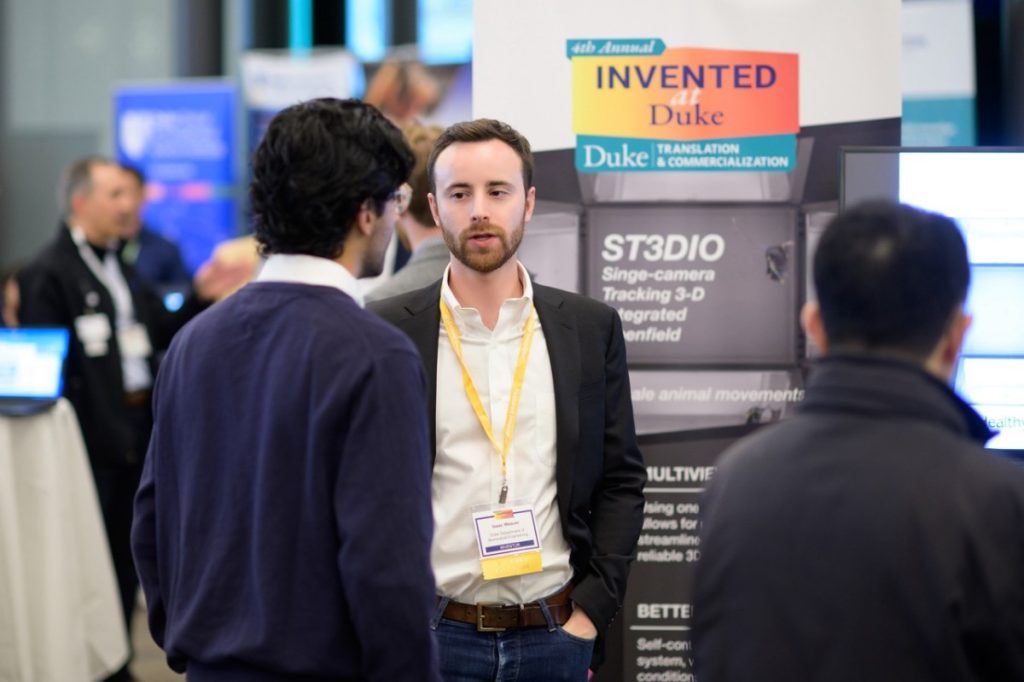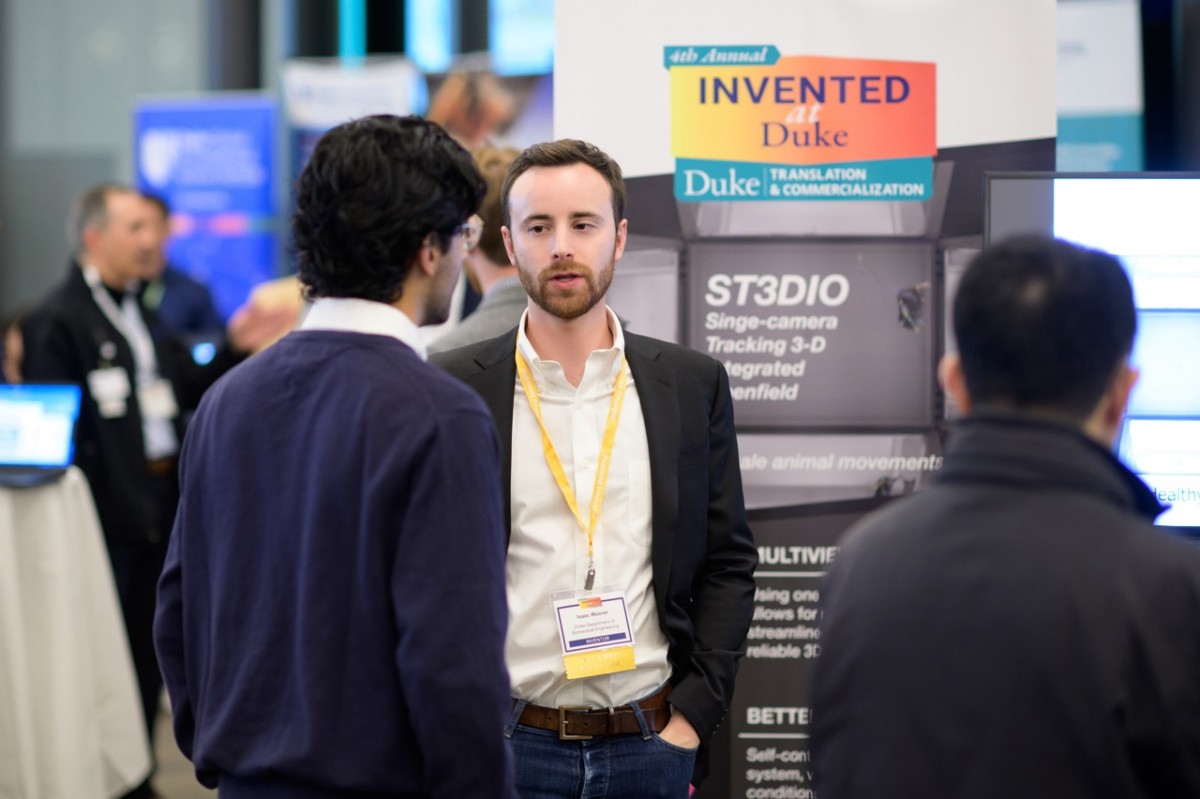 Benjamin Wiley – Trinity College of Arts & Sciences
Sparta Biomedical is a Triangle-based startup creating a synthetic cartilage platform for implants like knee cartilage repair. Professor of Chemistry Benjamin Wiley is the Chief Technology Officer.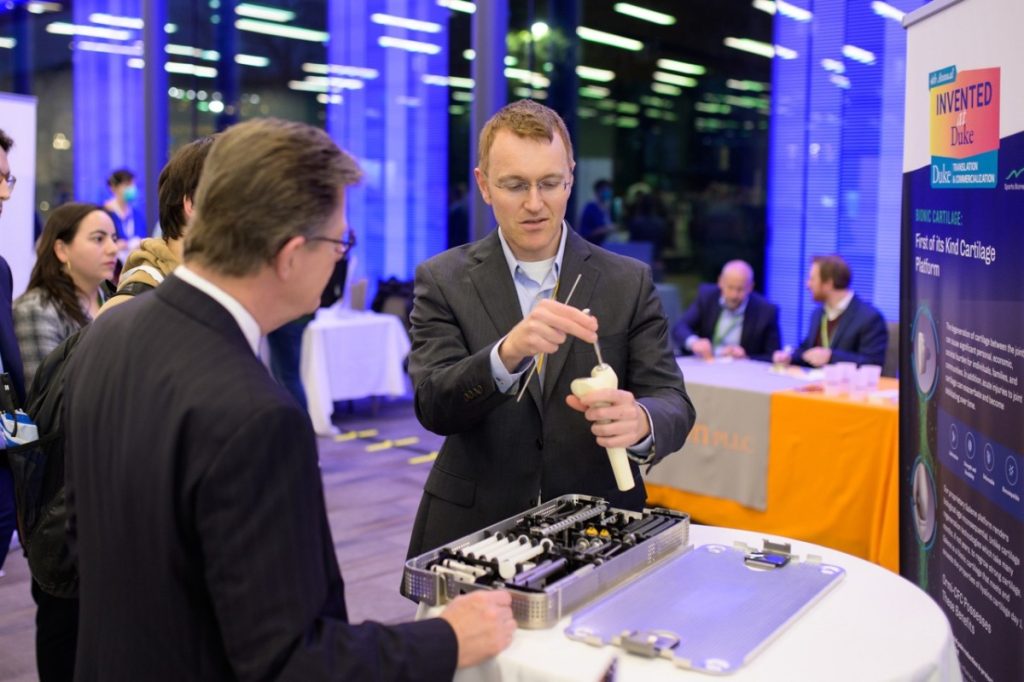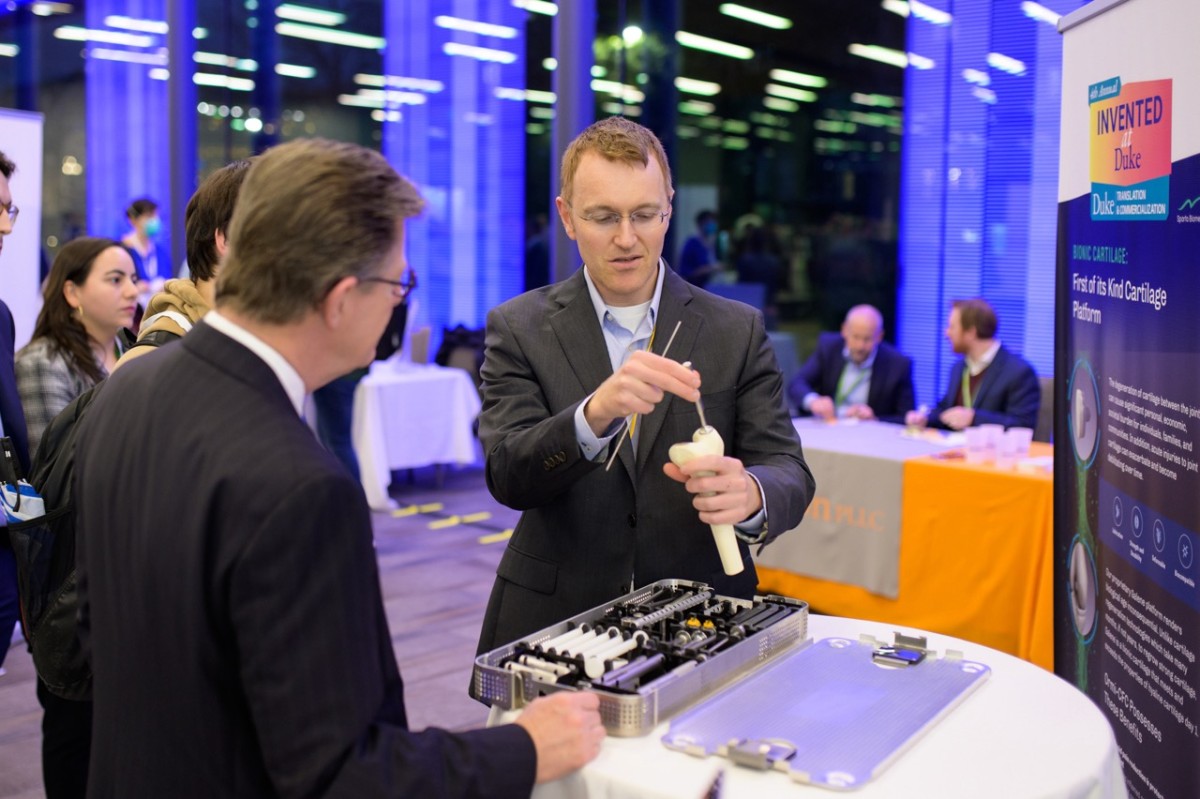 Featured Resources:
Biolabs NC – a unique biotech co-working facility in downtown Durham, North Carolina.
CrossComm – builds custom software for innovative businesses looking to make an impact on their most important audiences.
Duke Capital Partners – leverage the power of the global Duke community to invest in and support entrepreneurs, to educate and empower students, and to engage and activate our members' contributions to the University's innovation ecosystem.
Duke Clinical and Translational Science Institute – the administrative home for the Duke Clinical and Translational Science Award (CTSA), overseeing and integrating sixteen CTSA core services into the fabric of translational science at Duke University.
Duke Institute for Health Innovation – catalyzes transformative innovations in health and health care through implementation of high-impact innovations, leadership development, and cultivation of a community of entrepreneurship.
Duke Innovation & Entrepreneurship – provides interdisciplinary, experiential education and opportunities to innovators, supporting them in solving the world's most pressing challenges.
Duke New Ventures – Duke's startup starting point, turning your intellectual property into a startup company.
Duke Office for External Partnerships (OEP) – proactively engages with corporations and other potential external partners to understand their needs and match these to Duke assets by means of systematic outreach and internal scouting to identify and realize partnership opportunities originating with faculty, and to demonstrate value to Duke interests.
Four Points Innovation – a strategic partnership between Duke University and Deerfield Management focused on supporting and accelerating the translation of research into new therapies to treat and cure society's most formidable healthcare challenges.
Innovation Co-Lab – a creativity incubator, focused on exploring how new and emerging technologies can fundamentally reshape the research, academic, and service missions of the university.
NC Biotech Center – create North Carolina's competitive advantage in the life sciences, engaging partners, maximizing opportunities, and delivering solutions to accelerate innovation, investment, and job creation.
Nucleate – a free and collaborative student-led organization that facilitates the formation of pioneering life sciences companies.
OASIS School of Medicine Engagement – create and support a cohesive portfolio of technology services that purposefully and relentlessly support Duke University's research and medical education missions as well as Duke Health's Learning Health and Personalized Health visions.
OTC Fellows Program – an exciting opportunity for Duke graduate students and post-doctoral fellows to gain exposure to the process of commercialization of academic science.
Pattern Health – partner with researchers, clinical innovators, and their institutions to develop and implement digital health programs, surveys, and clinical tools.
School of Nursing – Health Innovation Lab – provides infrastructure for evaluating medical devices, digital health technologies, and care delivery models for patient care.