From Campus to Commercialization: Celebrating Duke's Novel Innovations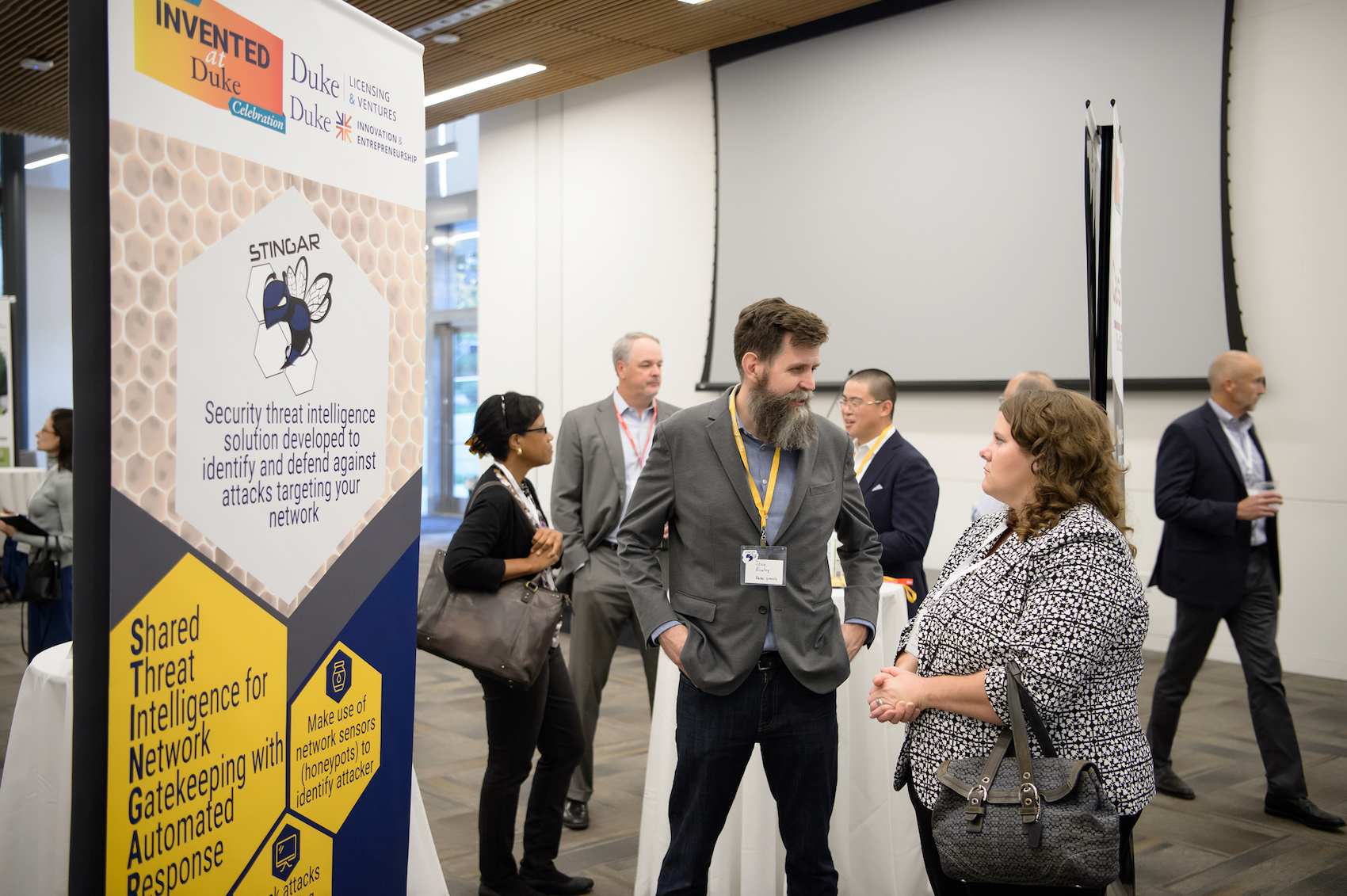 From Drug-Resistant AI to AR Brain Models–Duke Puts its Innovative Spirit on Display Again
Celebrating its 3rd year, "Invented at Duke" showcased 13 companies and early technologies from across campus illustrating how Duke is leading the way in transferring innovations to society.  This year, 350 students, faculty, staff, alumni, investors, and members of the local community came to see how Duke is translating research into impactful innovations.
This annual event, co-hosted by Duke's Office of Translation and Commercialization (OTC) and Duke's Innovation & Entrepreneurship Initiative (I&E), aims to celebrate and promote the diverse accomplishments of Duke innovators and entrepreneurs. Showcasing technologies, inventions, and novel ideas coming out of Duke help to illustrates the breadth of Duke discoveries and innovations while encouraging others to develop ideas of their own.
Guest speaker Derek Jantz, CSO of Duke start-up Precision BioSciences, talked about his company's journey from start-up to going public this past year. He shared some of the company's challenges—namely, being embroiled in an intellectual property lawsuit for five years which the company ultimately won—and its triumphs, such as beginning clinical trials with its first cancer patient. He also discussed the company's decision to remain in the Triangle despite investor pressure to move to more established innovation hubs.
"We are absolutely committed to Durham and have had to fight really, really hard against the demands of our investors to actually stay here," Jantz said. "They want us to move to Cambridge or San Francisco, and we've said no, we're staying in Durham. And the reason for that is, we like Duke and absolutely love this city and would like nothing more than to do everything we can to help Durham become a major hub of innovation and entrepreneurship."
This year, the event also highlighted Duke's innovation and entrepreneurship resources. From funding resources to incubators to oversight, more than 15 Featured Resources were on display providing guidance and facilitating discussions among Duke inventors and the broader Duke community.
"This event really highlights the breadth and depth of Duke's innovation community," said Jon Fjeld, director of Duke's Innovation & Entrepreneurship Initiative. "It's inspirational to see innovations coming from across the university, from the School of Medicine and the Office of Information Technology all the way to undergraduate engineers and even an invention by a dance faculty member. It's also rewarding to see how many resources and collaborations at Duke play a role in helping to move ideas and innovations out into the world."
OTC is responsible for handling all intellectual property (inventions) for Duke employees. "We work with researchers early on to identify promising ideas, decide the best way to protect the inventions, work with them to find the best partner, negotiate the deals, collect and distribute revenues, and sometimes handle litigation," said Robin Rasor, Executive Director of OTC.
16 new start-up companies were added this year to the growing list formed from Duke research–bringing Duke's overall start-up total to 142. 14 of this year's 16 are staying in North Carolina, with 29 of 32 total start-ups remaining in the Triangle over the past two years. This year OTC broke previous records with 354 invention disclosures, 120 agreements, and 32 exclusive agreements. 91 US patents were issued this year as well.
Adding to Duke innovation successes, Duke start-up Tellus Therapeutics was awarded a Golden Ticket from Duke's CTSI and the NC BioLabs granting their company a free bench for a year in the BioLabs located in the Chesterfield Building. Tellus Therapeutics, founded by Eric Brenner, is developing novel small molecules derived from human maternal breast milk for the treatment of newborns with perinatal brain injury.
"Last night's event demonstrated the excitement around innovation and entrepreneurship on campus and in our local community. Duke is a vital center of innovation right now, transforming today's ideas into tomorrow's new products," said Rasor.  "Our goal in highlighting Duke's success in technology commercialization is to not only display the inventiveness and ingenuity of our faculty, students, and staff but also to encourage them to bring their new innovations forward."
Here Was This Year's Lineup Of Featured Innovators:
Upstream
Inventor: Xinnian Dong
A novel method that allows for increased disease resistance in crops without decreasing yield.
Inventors: Bruce Donald, Marcel Frenkel, Mark Hallen, Jonathan Jou
Gavilán is a software platform that predicts and out-maneuvers possible drug resistance mutations using AI technology to design drugs with a property called resistance-resilience.
Inventor: Scott Soderling
CasTag Biosciences has developed innovative CRISPR-based reagent kits for labeling and manipulating endogenous proteins in cells and tissues with unprecedented precision and ease of use for academic and industry laboratories.
ImageOn
Inventors: Allen Song, Dean Darnell, Trong-Kha Truong
ImageOn is developing a new technology, iPRES, for MRI scanners.  This technology can improve the image quality while reducing manufacturing costs, saving space in the scanner bore, and improving patient comfort.
Lacuna Medical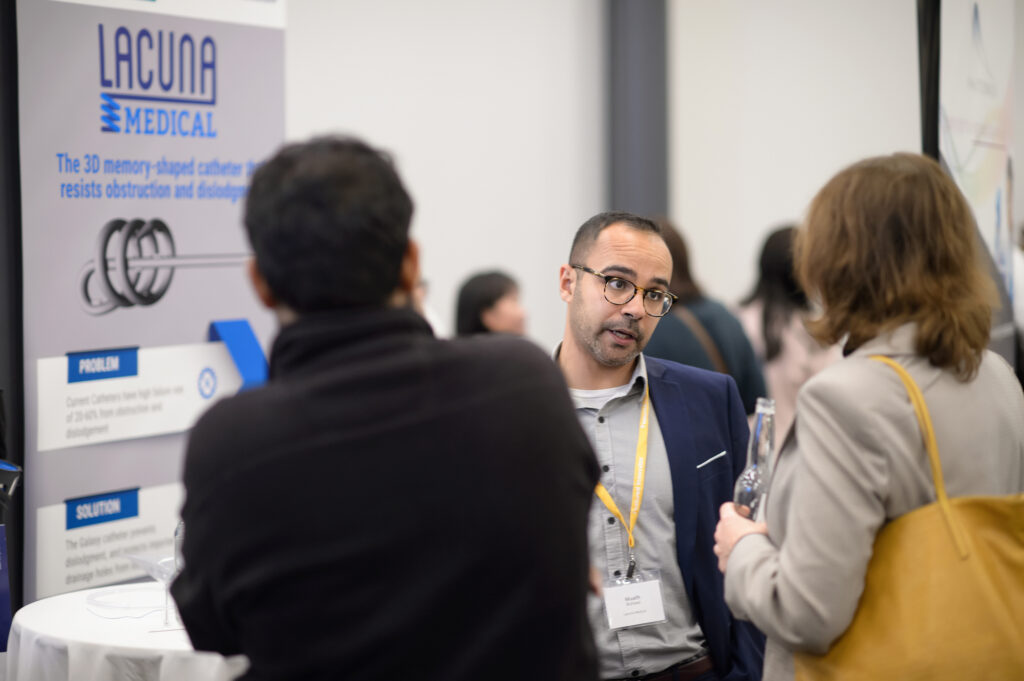 Inventor: Muath Bishawi
Lacuna Medical has developed a 3D-shaped memory catheter technology aimed at decreasing catheter failure and dislodgement.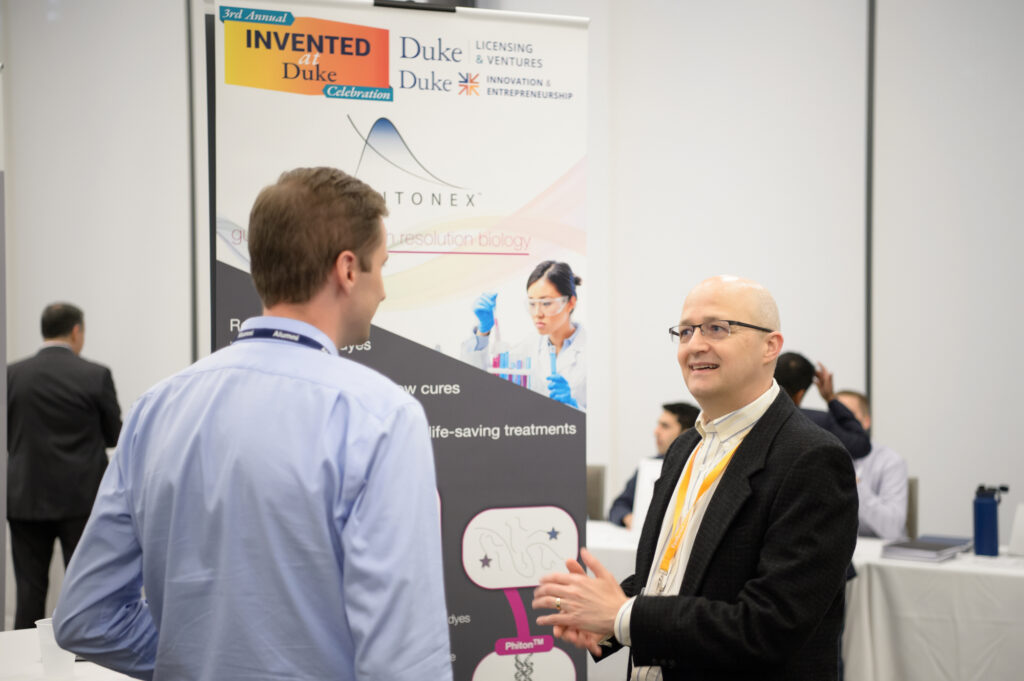 Inventors: Alvin Lebeck, Craig LaBoda, Chris Dwyer
Phitonex is painting a newer, more colorful future in life science research with its advanced fluorescent technologies.  This technology allows researchers to investigate diseases at the single-cell level and advance their discoveries with more insight and higher resolution.
U-Core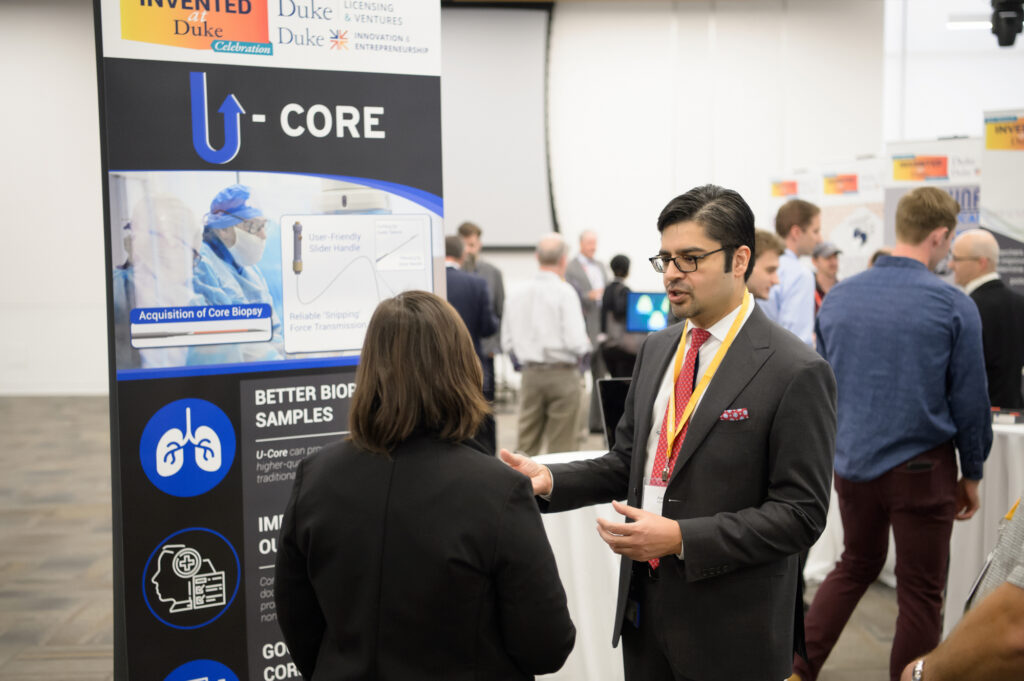 Inventors: Kamran Mahmood, Paolo Maccarini, Donald Pearce
U- Core is a novel cutting biopsy device that can be inserted through an endoscope and obtain high quality, reliable distant core biopsies from deep organs like lungs, minimizing biopsy attempts, procedure time, complications and non-diagnostic procedures.
Inventors: Tracy Futhey, Richard Biever
STINGAR is a security threat intelligence solution developed by Duke OIT to identify and defend against attacks targeting your network.
Inventor: Ken Gall
restor3d produces orthopedic implants with enhanced anatomical fit and superior integrative properties using cutting-edge additive manufacturing (AM) technologies.
The Hydrean
Inventor: Michael Klien
The Hydrean is a mindfulness tool and method designed for use by anyone, anywhere, and anytime. Its tactile features link to simple prompts that guide your awareness towards intentional living.
Protect3d (Student)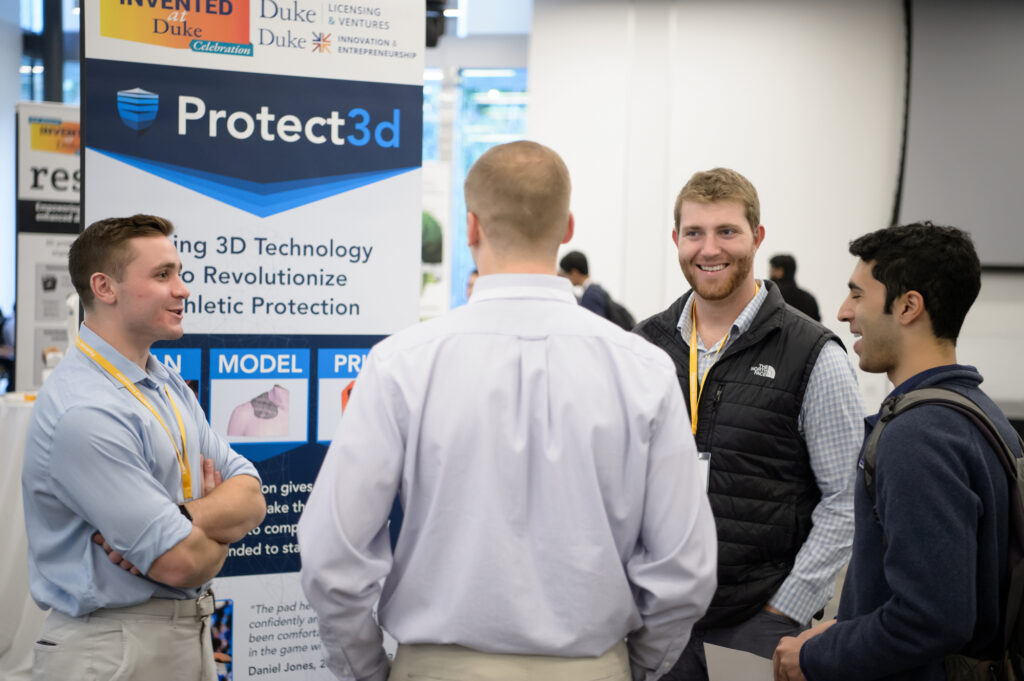 Inventors: Kevin Gehsmann, Clark Bulleit, Tim Skapek
What began as a novel engineering project helping former Duke QB and #6 overall draft pick Daniel Jones return to the field has become a startup revolutionizing protective equipment used in all levels of athletics and beyond.
Caia Curve (Student)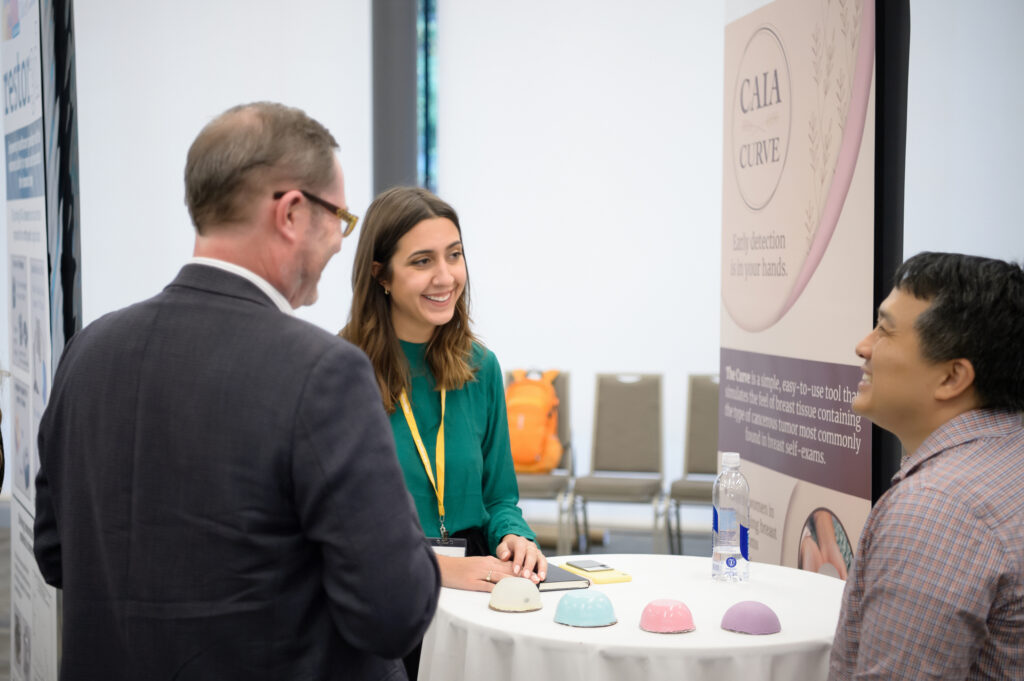 Inventor: Beryl Baldwin
The Curve is a realistic model women can use to train themselves in performing breast self-exams.
MesnAR (Student)
Inventor: Erikson Nichols
MesnAR is a medical venture whose mission is to provide efficient and effective customization and creation of anatomical models in a mixed media platform.