Echodyne plays role in a pioneering flight of a drone on its own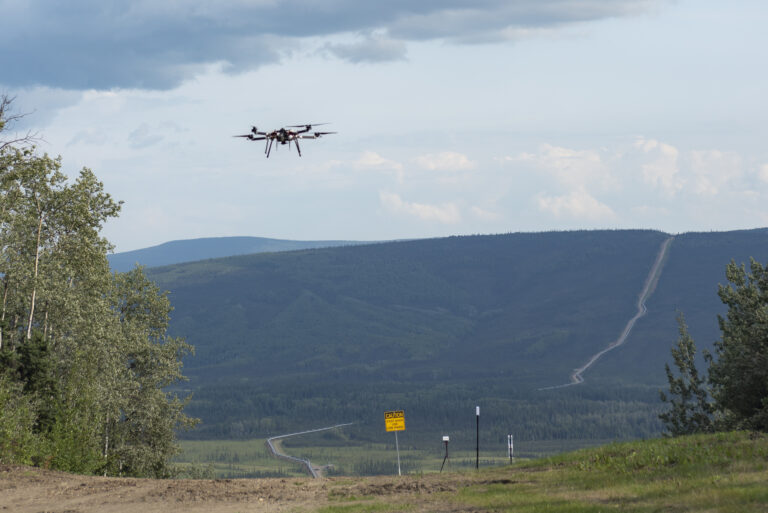 A public-private consortium led by the University of Alaska has conducted the first-ever federally authorized test flight of a drone beyond the operator's line of sight without on-the-ground observers keeping watch – with Echodyne, the radar venture that's backed by Microsoft co-founder Bill Gates and headquartered in Kirkland, Wash., playing a supporting role.
Autonomous flight beyond visual line of sight will be key to the kinds of drone delivery operations envisioned by Amazon, Walmart and other retailers.
During Wednesday's flight, a Skyfront Perimeter multirotor drone inspected a 3.87-mile stretch of Trans-Alaska Pipeline infrastructure as part of the University of Alaska's Unmanned Aircraft Systems Integration Pilot Program, one of 10 such programs that won approval from the Federal Aviation Administration last year.
The big thing about this flight is that the drone made use of Iris Automation's Casia onboard detect-and-avoid system, paired up with Echodyne's ground-based MESA airspace management radar system, without having a human on the route.
Current FAA regulations limit drone flights to the operator's visual line of sight. Pilot projects have been experimenting with technologies that can ensure safe operations beyond the visual line of sight, known as BVLOS. But until now, the FAA's waivers still required a ground-based observer to look out for non-cooperative aircraft coming into the test area.
This week's flight of a drone totally on its own was authorized after it flew the same route with visual observers.
"The test mission designed by the team at the University of Alaska at Fairbanks is an excellent demonstration of the potential for commercial UAS," Eben Frankenberg, the founder and CEO of Echodyne, said in a news release. "With Iris Automation and Echodyne sensor technologies, routine commercial missions like linear inspection and medical deliveries to remote communities are both practical and safe."
The radar system developed by Echodyne relies on metamaterials technology, which uses specially structured electronics to bend electromagnetic waves. Circuits based on metamaterials can allow for the construction of flat-panel radar devices that match the performance of larger, more expensive phased array antennas.
[Originally posted by Geek Wire — August 2, 2019]