Duke University celebrates World Intellectual Property Day 2023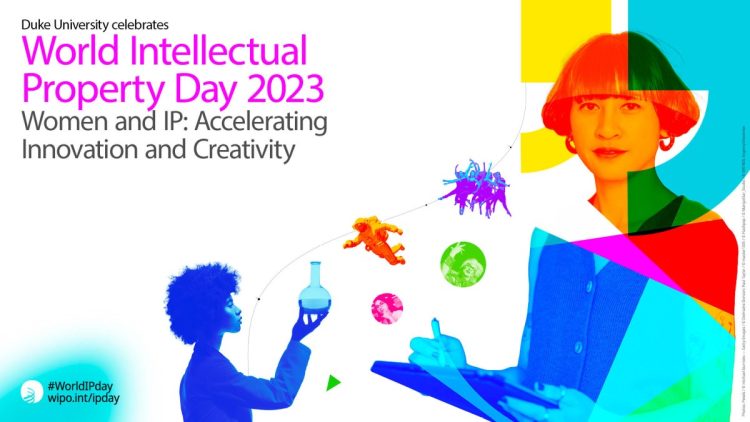 April 26th marks the annual World Intellectual Property Day, established in 2000 by the World Intellectual Property Organization.
This year's theme is "Women and IP: Accelerating Innovation and Creativity" – and we at Duke's Office for Translation & Commercialization (OTC) are pleased to work daily with a variety of creative and innovative women innovators, including students, clinicians, and researchers.
From graduate students participating in our fellows programs, like Dr. Anna Kudla, to founders building innovative start-ups, like Dr. Kelli Luginbuhl, to professors developing technologies to be licensed out, like Drs. Linda Gray Leithe and Terrie Moffitt, we work with innovators from across schools and departments.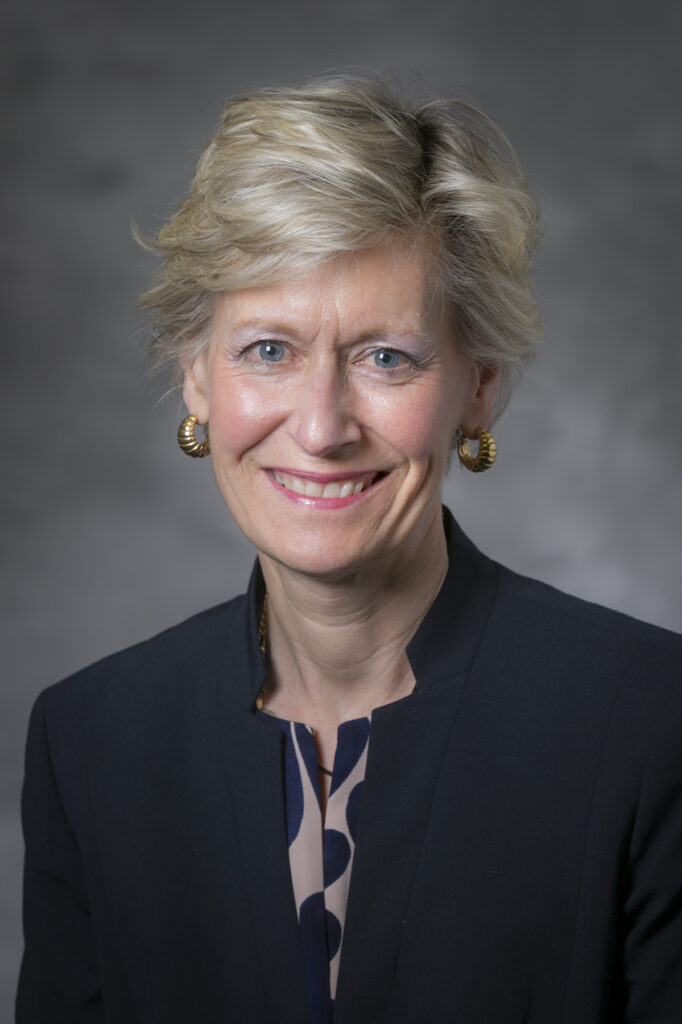 OTC is managed by Robin Rasor, Associate VP for Translation & Commercialization, who since arriving at Duke in 2016 has worked to transform the office into a consolidated manager of the technology commercialization pipeline at Duke University. Instead of reactively waiting for Duke innovators to disclose inventions to OTC, OTC is becoming more proactive by expanding funding and mentorship support for early-stage inventors and their technologies, as well as the later stage investing in and mentorship of start-ups through Duke New Ventures and Duke Capital Partners.
"On this World Intellectual Property Day, I want to thank and encourage all the incredible innovators at Duke University who keep finding new ways to address the world's pressing needs, from healthcare to sustainability and everything in between," said Rasor. "We are excited to continue partnering with you and helping you achieve your innovation goals."
Managing intellectual property, especially patents, are still the bread and butter of OTC and we have maintained Duke University's standing as a top innovating institution globally. Just today, the National Academy of Inventors (NAI) has released its annual list of the Top 100 Worldwide Universities Granted Utility Patents, and Duke University is number 18 based on U.S. patents awarded in the 2022 calendar year.
To celebrate World Intellectual Property Day, here are some fun facts about patents and Duke University IP.
Protecting IP is a foundational American ideal
The Founding Fathers considered intellectual property so important that they empowered Congress to enact laws protecting it.
Article 1, Section 8 of the U.S. Constitution reads: "The Congress shall have Power To […] promote the Progress of Science and useful Arts, by securing for limited Times to Authors and Inventors the exclusive Right to their respective Writings and Discoveries."
The first U.S. patent, signed by President Washington himself, was awarded in 1790 to Samuel Hopkins for a process to make the fertilizer component potash.
The U.S. government began officially numbering patents in 1836 and it took almost eighty years to reach one million issued patents. Growth has been exponential, however, and the most recent million new patents – from ten to eleven million – were added in just three years, from 2018 to 2021.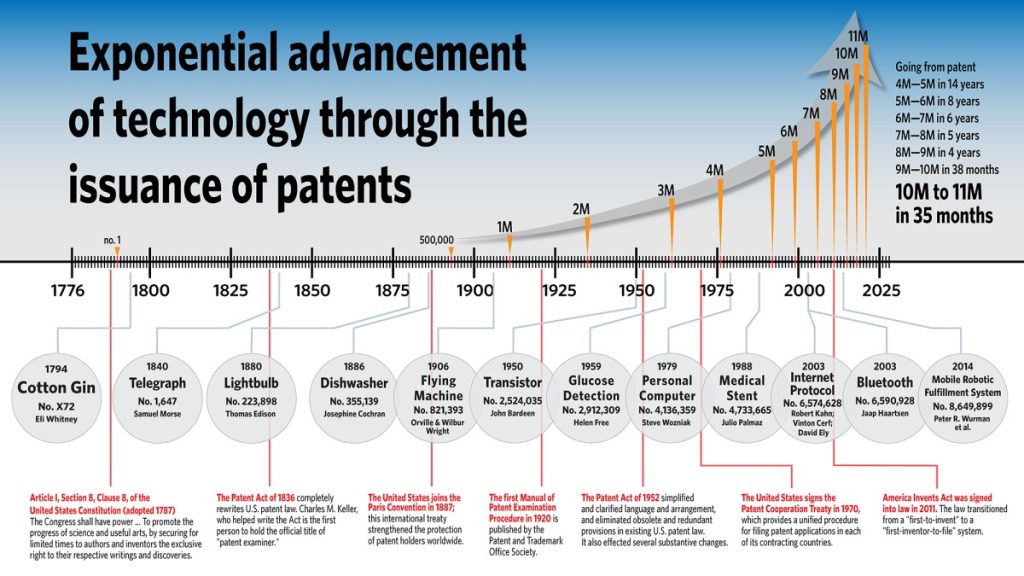 Duke University's first patent
The first patent directly assigned to Duke University is U.S. patent 2,446,091, Method of extracting gelose from seaweeds such as hypnea musciformis and other species of the genus hypnea, granted in 1948.
It was an invention of Harold Judson Humm, an early director of what is now called the Duke University Marine Lab. This is a testament to the fact that innovation exists in all corners of Duke University.
Duke IP keeps people healthy
Some of our most successful and impactful patents are in the healthcare space.
The technology underlying Krystexxa, a treatment for chronic gout, was developed by Drs. Michael Hershfield and Susan J. Kelly. The first patent issued in this endeavor was U.S. patent 7,056,713: Urate oxidase.
IP that led to Uplizna, an antibody therapy for neuromyelitis optica spectrum disorder, was created around research by Dr. Thomas F. Tedder and colleagues. The first patent here was U.S. patent 8,444,973: Anti-CD19 antibodies and uses in B cell disorders.
Myozyme (also known as Lumizyme in the U.S.), an enzyme replacement therapy for Pompe disease, was developed from research by Dr. Yuan-Tsong Chen. The first patent here was U.S. patent 7,056,712: Treatment of glycogen storage disease type II.
Those first U.S. patents were just the beginning – Duke has portfolios of global IP coverage for each of these therapies currently on the market, as well as for many other technologies.
OTC handles all Duke IP
OTC continues to support inventors from across Duke University.
As part of the 120 U.S. patents and 111 foreign patents awarded in the 2022 calendar year, we had patents from the School of Medicine, the Pratt School of Engineering, and Trinity College of Arts & Sciences. Here are a few that demonstrate the breadth of innovations being created at the university:
Dr. Qingrong Jackie Wu and colleagues, School of Medicine
U.S. patent 11,443,842: Automatic determination of radiation beam configurations for patient-specific radiation therapy planning
Dr. Nan Marie Jokerst and colleagues, Pratt School of Engineering
U.S. patent 11,247,207: Microfluidic systems having photodetectors disposed therein and methods of producing the same
Dr. Michael J. Therien and colleagues, Trinity College of Arts & Sciences
U.S. patent 11,508,462: Control of trion density in carbon nanotubes for electro-optical and opto-electric devices
Patents are only part of our expertise, however. Duke's OTC also helps with copyrights, trademarks, technology licenses, start-up creation, and more.
To start your innovation commercialization journey, please contact the Duke University Office for Translation & Commercialization.