A Conversation with Lumedica's Adam Wax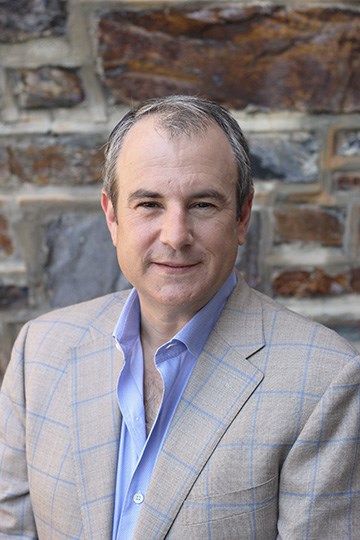 Late last month, Luminate—a Rochester, N.Y.–based startup accelerator focusing on optics, photonics and imaging technologies—announced the winners of its second-round accelerator competition. Taking third place, and taking home a cool US$250,000 of seed money from the accelerator, was a firm from well outside of the Rochester area: the vision unit of Lumedica Systems, based in Durham, N.C., USA.
Lumedica is an optics startup that designs affordable biomedical and scientific imaging technologies to improve global healthcare for both patients and providers. Its vision arm is working to reduce blindness with a portable optical coherence tomography (OCT) device for diagnosing retinal disease. OPN talked with Lumedica's president and chief scientist, OSA Fellow Adam Wax, about the company's experience with the Rochester-based accelerator—as well as the next steps for Lumedica.
What is Lumedica working to commercialize?
Our goal is to bring to market low-cost OCT. As you probably know, OCT is one of the best ways to detect retinal disease. The problem is that OCT is kind of expensive and bulky equipment, so it's not really being used at the point-of-care for screening.
Our goal is to democratize this technology and have it available for everyone. Whether that is at an optometrist in a rural center in the U.S., or in a remote village in India, China or South America—it's for places where you're not going to have an expensive $100,000 machine to scan everyone's eye.
The device that we've built is portable; it weighs just four pounds, and it's low-cost—the cost of goods is just US$5,000. We got the cost down by 3-D printing the spectrometer, which is the heart of an OCT. And with that step, we made it much more robust than current OCT systems. It's a 3-D printed plastic spectrometer, so you pick it up, and you drop it, and it doesn't go out of line. We made it to allow for different tolerances. It can take a few knocks around, and it still works.
How did Lumedica get involved in the Luminate competition in Rochester?
I've been hearing about Luminate for a couple years. And when we first applied, for their first-round competition, I think we were too early, and they weren't sure how to handle out-of-state entrants. So the first year they didn't accept us, but the second year they actually contacted us and said "Hey, apply; we want out-of-state folks." And we entered, we were accepted, we participated in their six-month incubator, and it was a really good experience.
It's a chance for a company to really develop their business case—prepare a pitch deck, prepare all of the due-diligence materials, be connected with key opinion leaders and market research experts. Usually, as you're trying do a startup, you don't get the protected time, space and resources to be able to do that. They're coaching you the whole way.
What aspects of your pitch do you think resonated with Luminate, and got Lumedica into the program?
I think it's our solid technology. A lot of the companies that apply are university spin-offs that may just have proof of principle. Whereas we've progressed far enough along that we actually have a technology we can manufacture. So we had de-risked it a bunch.
Lumedica has been selling research systems for two years now. Not only are we talking about low-cost systems, we actually build and sell them. We have 100 of them in the field, and there are zero failures. That was validation.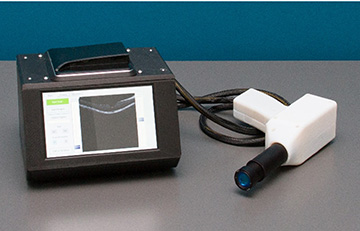 Lumedica's portable OCT device. [Image: Courtesy of Adam Wax]
The Luminate process includes a six-month bootcamp culminating in "Demo Day." How was that experience?
Demo day was a lot of fun. We brought our portable, low-cost OCT and had it there on the table. And that's a real draw, when you see a working tech on the table and you can actually scan somebody's retina with it.
What was the biggest takeaway, or biggest value, of this experience from the point of view of Lumedica?
We saw really great things coming out of the Rochester area. As someone who grew up in the state of New York, it's really great to see resources being driven to revitalizing the economy in Rochester. I think all these startups are creating a new ecosystem up there where startups have resources.
Honestly, that's the lifeblood of the American economy these days, you know? The big companies don't do this fundamental research. They let the smaller companies go ahead, develop products, and then they acquire or work with the startups that are successful. Whereas in the old days we had Bell Labs and Xerox labs—we don't have that anymore.
Let's talk about a few other exciting recent developments for Lumedica. For starters there are the results of your first clinical trial, which you recently published. What were the key takeaways?
When you have a lower-cost device, there's always going to be questions: Is the quality the same as what you might see for the commercial version? So we actually undertook a clinical comparison. We did a trial in which patients were scanned with our device and with the Heidelberg SPECTRALIS OCT device.
The metric we used was contrast-to-noise ratio, which is a common benchmark for medical imaging, and we found that our contrast-to-noise ratio was 95% of that of the Heidelberg device. So there was only 5% difference between them.
It's a real validation because, when you think about it, our device is less than one-tenth of the cost. And the portability is very different too, ours is very light and only 600 cubic inches. You can use our device and still get the same diagnostic information.
[Originally posted by Optics & Photonics — July 8, 2019]