A Busy Year for Duke New Ventures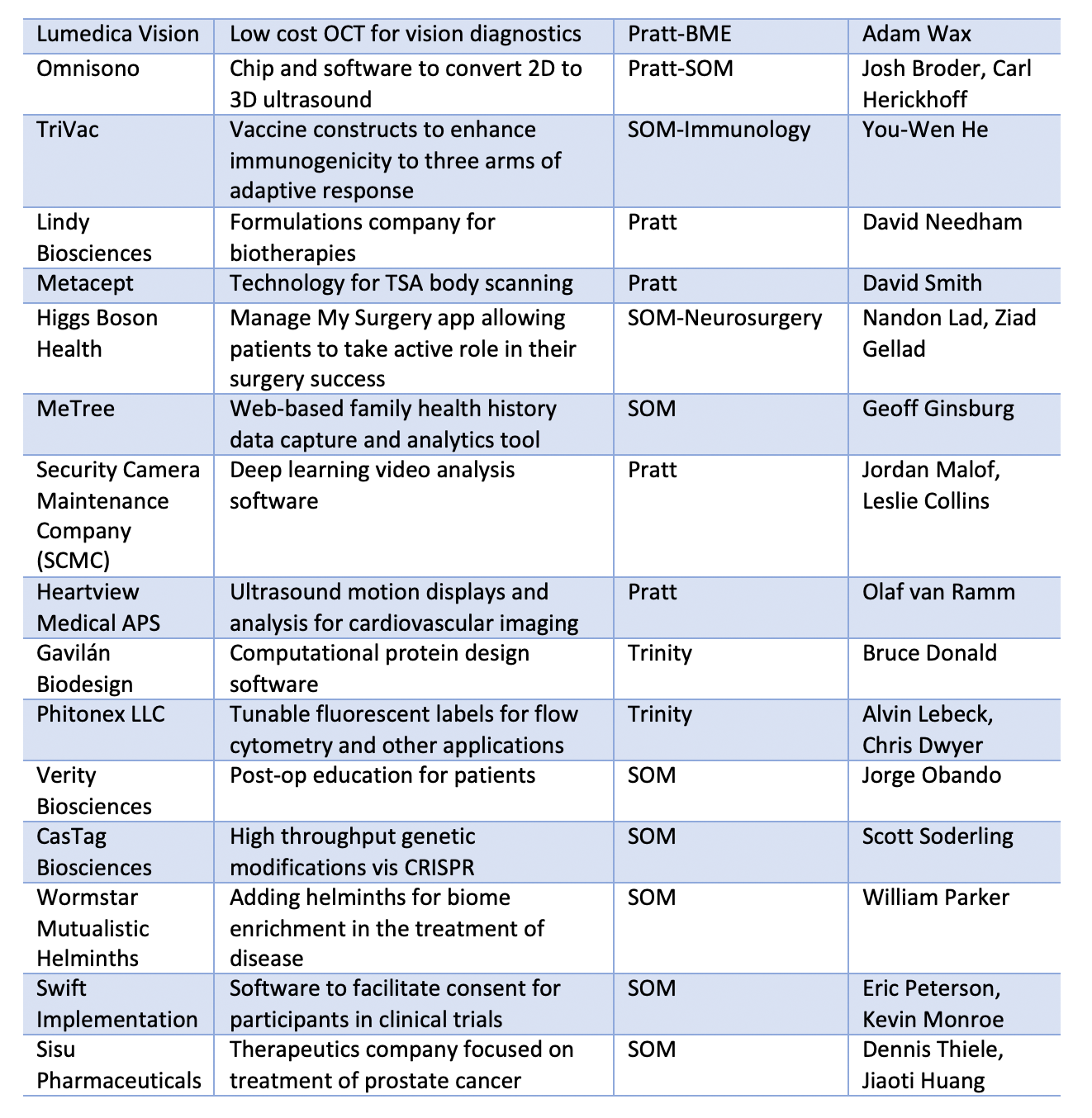 Research is the seed capital for creating knowledge to foster innovation: FY19 Annual Report for Duke New Ventures
Each year, Duke research yields new ideas and innovation with the potential for commercialization. Our highly-skilled and talented faculty and staff supply the Office of Translation and Commercialization (OTC) with an endless pipeline of novel opportunities.
The commercialization of these ideas starts with converting research at Duke into intellectual property (IP). For those inventors who want to be more hands-on with their technology, they can opt to form their own spin-out company instead of licensing to an existing one. An entrepreneur's starting point for turning Duke IP into a start-up company is Duke New Ventures.
The director of New Ventures, Rob Hallford, and his team of Mentors-in-Residence (MIRs) and New Venture Fellows (NVFs) diligently worked with our faculty and staff this past year, helping them navigate their start-up opportunities and craft business plans, pitches, and more. The immediate goal was to connect these fledgling companies with mentors, management, and investors to commercialize their technologies and transform them into successful private-sector applications.
Two Duke spin-outs, Precision BioSciences and PhaseBio Pharmaceuticals, went public this past spring­­ bringing Duke's total IPOs to nine. Located here in the Triangle, Precision's recent opening of a new $26 million manufacturing facility is spurring economic growth and interest in the area, acting as an "anchor tenant".


From TSA body scanning technology to software that can predict and overcome cancer drug resistance, 16 new start-up companies were added this year to the growing list formed from Duke research–bringing Duke's overall start-up total to 142. 14 of this years 16 are staying in North Carolina, with 29 of 32 total start-ups remaining in the Triangle over the past two years.
Additionally, six of Duke's ventures "graduated" this fiscal year–meaning they have procured the management and capital to move forward, either via financing or with sales revenue. Congratulations to Cellective Biotherapy, Gavilán Biodesign, MicroElastic Ultrasound, Phitonex, SV Analytics, and CCDS.
FY19 Duke Start-ups
The Duke New Ventures team has made over 115 introductions for our portfolio companies this year—to investors, management, service providers, and strategic partners. These introductions resulted in management team hires, partnerships, and sales for our startups.
"I'm excited about the role Duke New Ventures is playing in the Duke Entrepreneurial ecosystem and beyond," said Hallford. "Our ties with I&E, Pratt, DIHI, Fuqua, ORAQ, CTSI, BioLabs NC, and the School of Medicine have never been stronger."
Hallford feels this is largely due to his MIRs—the heart of the program. The culture of collaboration starts with them working behind the scenes to connect Duke startups and move things forward. This year, two new MIRs joined the team—Diane Ignar and Doreen Grech.
Ignar and Grech made an immediate impact in coaching Duke startups for Duke New Venture's first ever Venture Day this past May. At this event, eight Duke companies pitched their novel ideas, along with five poster presentations, in front of a dozen venture capital (VC) firms, including 10 from out of town.
"Three of our companies have proceeded into due diligence with VC firms in attendance—a testament to the quality of startups coming out of Duke," Hallford said.
Overall, $372 million was raised by Duke start-ups this past fiscal year, bringing the total capital raised in the past 25 years to just over $5.4 billion.
Another facet of Duke New Ventures is the New Venture Fellows program, which continues to make great strides. New Ventures had nine Fellows last Fall and 13 this Spring. NVF efforts have played a key role in advancing many startups this past year.
Jess Levitt, Assistant Director for Fuqua's Health Sector Management (HSM) Program who works closely with many of the NVFs noted that the NVF program has been of increasing interest to both current and prospective HSM students. It appeals to students with a variety of career interests, from those looking to work with start-up companies, students interested in joining a venture capital firm, those hoping to work in strategy roles or on mergers and acquisitions, to individuals hoping to start their own company someday.
"All of these students benefit from working on meaningful projects where they have the ability to make a real impact and do so in a learning-based environment under the expert guidance of an MIR with the support of the New Ventures Program," Levitt said.
The resources we put in place for our start-ups—the MIRs and New Venture Fellows—are one part of the equation, aimed at telling a clear story for every opportunity. "It's only when these stories resonate with and engage the broader entrepreneurial ecosystem that Duke innovations can take off and move toward the market," said Robin Rasor, Executive Director for OTC.