41 Companies Formed out of Big-3 Research Universities Last Year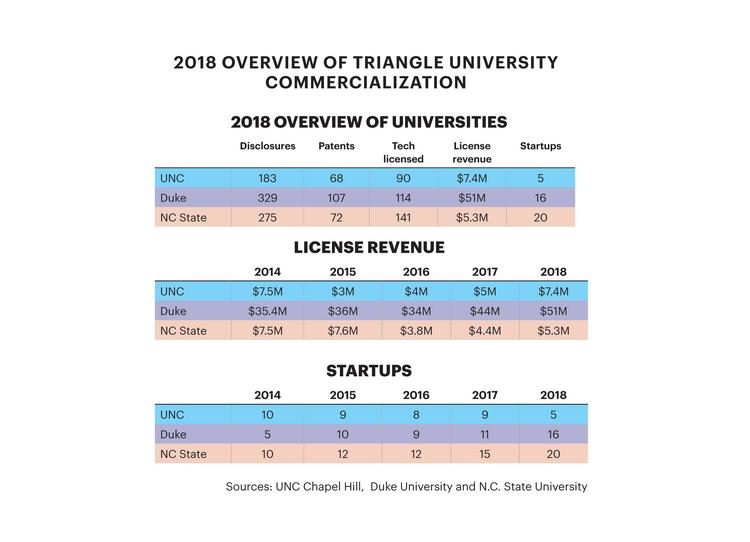 Triangle-area research universities are producing over 40 companies per year – as well as thousands of inventions, patents and millions in licensing revenue.
The good news for the local economy is that in all those categories, the numbers are continuing to grow – as long as administrators can keep finding ways to bring in research dollars.
In 2018, Duke University, N.C. State University and UNC Chapel hill collectively produced 41 spin-out companies – joining the hundreds of previous companies stemming from Triangle university research. Many of those have gone on to become successful companies – such as Duke spin-out Element Genomics which was acquired in April 2018 for $30 million.
Those ideas are making millions for the universities – which collectively raked in over $63 million last year through license revenue. Duke – which led in licensing revenue – brought in $51 million alone.
But each year's success is only adding to the cumulative effect that the universities are having.
According to UNC data, the university has launched 613 startups since 1958, 75 percent of which are still active. Of those 462 active startups, 85 percent are headquartered in North Carolina. In the last year, the cumulative revenue of all UNC active startups totaled $11.3 billion and employed more than 71,000.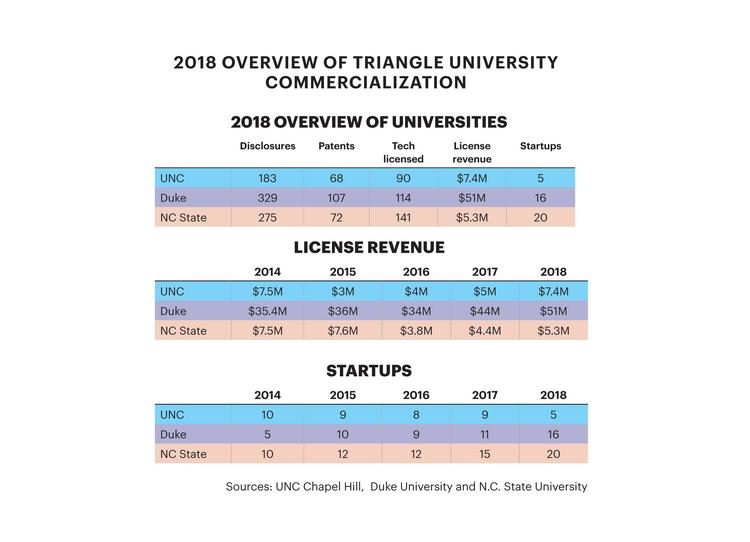 Though the university has a long history of startups, the pace has increased in the past few years. Between 2014-2018, 255 of the total 613 companies were formed.
Licensing revenue, too, has exploded. Between 2009-2013 license revenue was reported at $13.3 million. In the last five years, revenue totaled $26.6 million – a 100 percent increase. Total patents increased from 135 in the first period to 267 in the most recent period – a 98 percent increase.
Though a remarkable jump, both UNC and Duke University report similar increases.
At Duke, startups have steadily increased from five in 2014 to 16 last year. During the same period, revenue increased from $25 million to $51 million per year, and patents grew more than 50 percent – from 53 to 107.