Onward NC! State of the North Carolina Biotech Community
May 4 @ 4:00 pm

-

7:00 pm

$15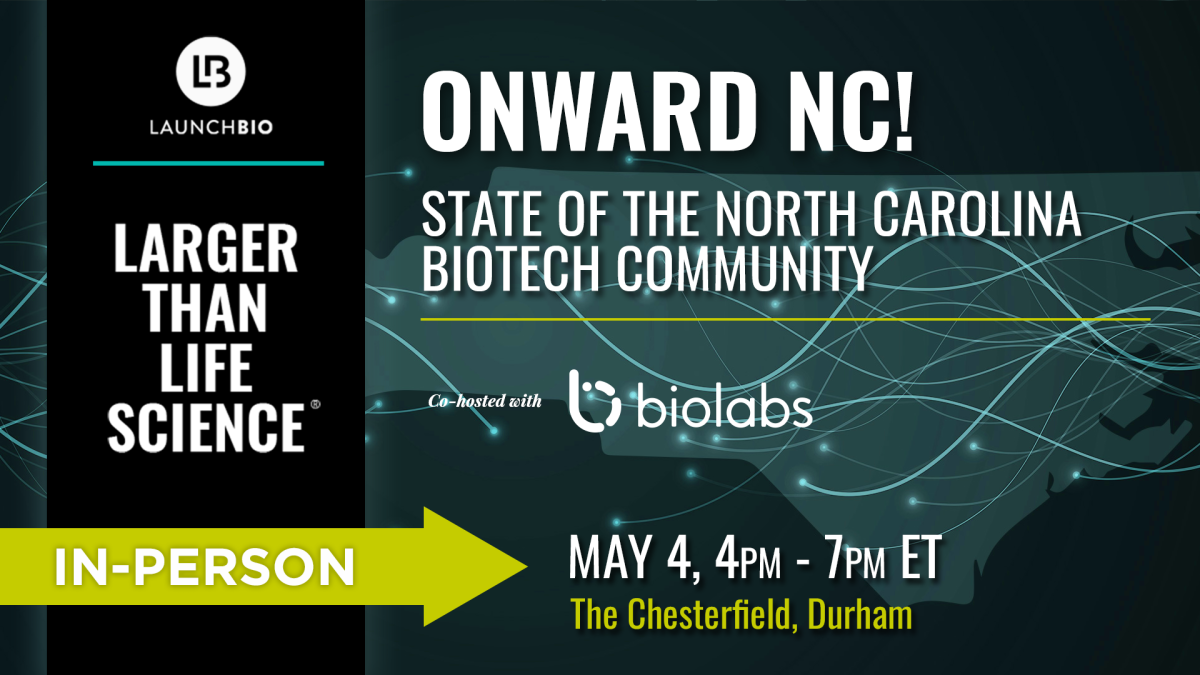 State of Industry: Latest Updates on the North Carolina Biotech Community
LaunchBio's Larger Than Life Science is back at the Chesterfield! It's been an eventful three years since our last program at the legendary downtown Durham innovation space. Now is a great time to reflect on the progress that the NC biotech community has made over the past few years, examine where we are now, and look ahead at how to continue advancing. North Carolina is poised for growth with all the necessary components of a successful biotech ecosystem, including world renowned research institutions, top talent, an emerging investment community, supportive infrastructure, and a business-friendly environment. The question is: How does the North Carolina biotech community leverage its strengths to keep forward momentum through turbulent times?
Learn from local industry leaders about the region's opportunities and the drivers for growth. Gain insights from life science analysts on the current state of the industry and potential challenges that lie ahead. Enjoy catering from Boricua Soul and craft beer from Durty Bull.
MODERATOR
Ed Field, MBA, President, North Carolina BioLabs
Ed Field is President of BioLabs NC. Mr. Field has 20+ years c-level experience in building and selling numerous early-stage and publicly-traded biotechnology companies. He has been responsible for managing commercial operations, regulatory, manufacturing, clinical development, finance and human resources. He was responsible for the buildout and start-up of BioLabs NC which has become the largest life science innovation lab in the Southeast US with over 90 early stage company residents and graduates that combined have raised over $2B in capital.
Mankit Law, PhD, MBA, Worldwide Business Development Director, GSK
Mankit Law is an executive with broad R&D and transactional experience. He currently serves as Director, Business Development at GSK. As a core member of the team that establishes and executes the company's BD strategy for Pharmaceuticals R&D, he leads the search and evaluation of partnership opportunities and the structuring and closing of related transactions. Prior to joining GSK in 2020, he was a Principal at Pappas Capital, where he played a key role in the firm's successful investments in the life science sector.
Pepper Landson, CPC, Co-Founder & CEO of Praetego, LLC.
Pepper Landson is an accomplished healthcare executive with 30 years of experience in research and development, positively impacting over 100 programs. Her contributions include successful products for infectious diseases, neurology, oncology, and infertility. Her tenacity fuels innovation and her talents energize successful teams. In the last decade, she has focused exclusively on developing novel therapeutics to address chronic diseases of aging. With her skills as a Certified Professional Coach, Pepper actively supports the next generation of life science leaders through her work as an EIR at UNC Chapel Hill / Kickstarter Ventures, Women in Bio's 3.8 Initiative, and mentoring entrepreneurs at UNC-Chapel Hill, Duke University, and NC State University.
Laura Gunter, MBA, President North Carolina Biosciences Organization
Laura Gunter leads the North Carolina Biosciences Organization as its president and directs the work of the life science advocacy association in conjunction with its Executive Committee and Board of Directors. NCBIO promotes policy initiatives that encourage the growth and success of life science companies doing business in the state by advocating for the industry before the NC General Assembly and the NC Congressional delegation. She works closely with state and federal partners on the advocacy and policy front.
Emerging Innovations: North Carolina's Startup Showcase
NC's got talent! This thriving regional entrepreneurial community is churning out some top notch companies, and BioLabs continues to be a hotspot for these high potential companies. Several local startups will share their biotech innovations, discuss their experience with transactional deals and navigating a difficult market climate, and their journey as a life science entrepreneur in North Carolina.
MODERATOR
Derrick Rowe, PhD, JD, Of Counsel, WSGR
Dr. Derrick Rowe is Of Counsel in the Washington, D.C., office of Wilson Sonsini Goodrich & Rosati, where his practice focuses on patent prosecution and counseling designed to help clients protect their intellectual property rights both domestically and internationally in the life sciences, biotechnology, molecular biology, pharmaceutical, diagnostic, and medical device fields.
Jeff Schaal, PhD, Senior Vice President, Solve Therapeutics
Jeff currently serves as Sr. Vice President at Solve Therapeutics where he leads the Theragnostic R&D division with the focus of developing targeted radiopharmaceuticals in the field of oncology. Jeff came to Solve through the acquisition of Cerius Inc., where he served as Chief Scientific Officer and co-led the acquisition process.
Jeff has his PhD in Biomedical Engineering from Duke University and his undergraduate degree in Chemical Engineering from Notre Dame
Kelli Luginbuhl, PhD, Co-Founder / CEO, Isolere Bio
Kelli co-founded Isolere Bio, a Duke University spinout, in 2017 after graduating with a PhD in Biomedical Engineering. Her doctoral degree, which focused on biomedical applications of phase separating biomaterials, led to two patents and several high impact publications in Nature Biomedical Engineering and Nature Chemistry, among others. As a CSO turned CEO, Kelli remains close to the technology and is an inventor on the company's core patents. At Isolere's helm, she has raised over $5M in non-dilutive funding and closed the $7M Seed round in 2021.
Ryan Hallet, PhD, Co-founder of Dualogics, VP of Product Dev. at Lanier Biotherapeutics
Ryan Hallett was co-founder and CEO of Dualogics, an antibody engineering company based on technology from the Kuhlman lab at UNC-Chapel Hill. Ryan served as CEO for Dualogics for the last 6 years, and has been an integral part in both the development and sale of the OrthoMab platform, a clinically validated platform that creates "bispecific" antibodies.
Currently, Ryan is spearheading product development at Lanier Biotherapeutics, an antibody development company based in Atlanta, GA.
PARTNERS