NCBiotech Aligning Health Care Innovation in North Carolina: Health Systems, Payers, Innovators, and the Quintuple Aim
April 27 @ 1:00 pm

-

5:30 pm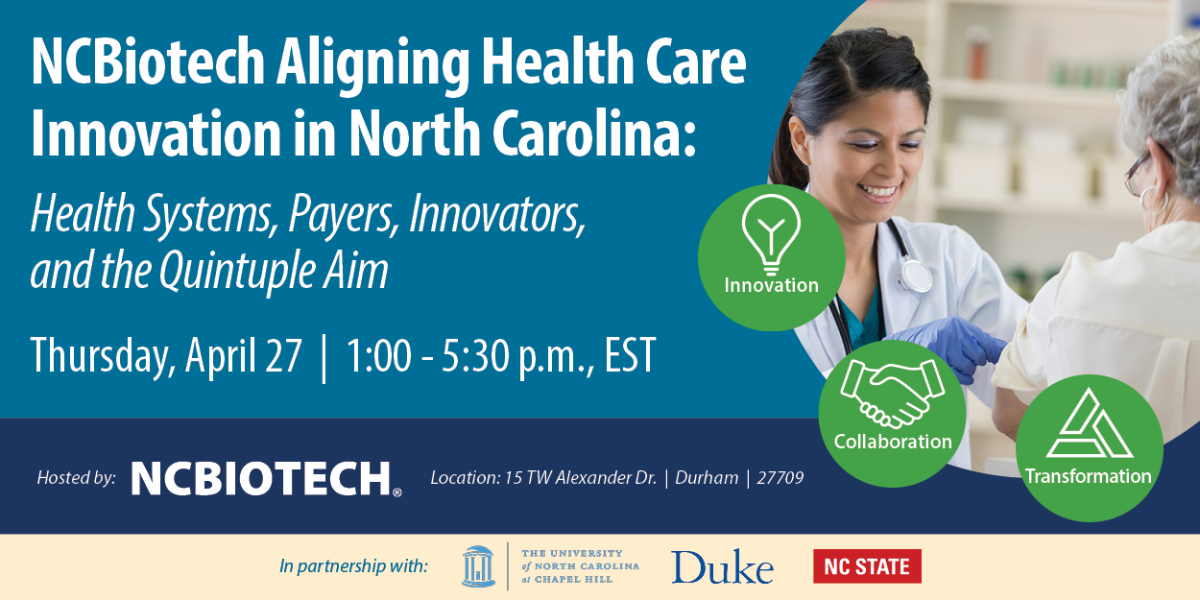 This event provides the health care, life sciences, and innovation community with an enhanced understanding of the strategic priorities and technology innovation areas of interest to health systems and payers. It also serves as an opportunity for health systems and payers to learn about and engage with companies developing solutions that align with their target areas of interest.
The health system and payer panels will be comprised of executive leadership. Panelists will provide an overview of their organization's strategic priorities and what drives those priorities, technology solutions being sought to help achieve organizational outcomes, and how companies can optimize engagement with their organization.
The third session will feature pitches from health care start-up companies curated from UNC, Duke, NC State University, and NCBiotech that have developed technologies to address health system and payer areas of interest.
Attendees will then hear from investors as they share their targeted areas of interest in health care and life sciences during a Reverse Investor Pitch session.
Sessions will be followed by a networking reception.
Agenda
1:00 to 3:00 p.m.        Panel: Health System Strategies
Panel: Payer Organization Priorities
3:00 to 3:20 p.m.        Break
3:20 to 4:20 p.m.        Health Care Company Pitches:
Select start-up companies, curated from UNC, Duke, NC State University, and NCBiotech, will pitch. Technology areas of interest will align with target interests shared by health systems/payers.
4:20 to 4:45 p.m.        Reverse Investor Pitches
4:45 to 5:30 p.m.        Networking Reception
Session information
Health System Strategies
Moderator: Elizabeth Cuervo Tilson, MD, MPH, State Health Director and Chief Medical Officer, North Carolina Department of Health and Human Services
Panelists:
Diana Rhyne, MBA, Executive Director, Research & Innovation, WakeMed Health & Hospitals
Todd Dunn, Vice President of Innovation, Advocate Health
Dan Galles, Partner, Providence Ventures
Payer Panel
Moderator: Marion Couch, MD, Ph.D., MBA, CEO, IntoValue Group and Adjunct Professor, Duke Medical School
Panelists:
Lisa Shock, DrPH, MHS, PA-C, Chief Population Health Officer, North Carolina Health Plan, UnitedHealthcare Community & State
William Lawrence, MD, Chief Medical Officer, Carolina Complete Health
Sonny Goyal, SVP, Diversified Business Group and Chief Strategy Officer, Blue Cross Blue Shield of North Carolina
Event Details
Host: North Carolina Biotechnology Center
Name: Aligning Health Care Innovation in North Carolina: Health Systems, Payers, Innovators, and the Quintuple Aim
Date and Time: Thursday, April 27 | 1:00 – 5:30 p.m. (EST)
Location: 15 TW Alexander Drive | Durham | 27709
Price: No cost
Registration: Required – Eventbrite Link
Organizers
Greta Brunet, MBA, PA-C | Senior Director, Investments | NCBiotech | greta_brunet@ncbiotech.org
Corie Curtis | Executive Director, Greater Charlotte Office | NCBiotech | corie_curtis@ncbiotech.org